Most Trump Voters Back His Proposed Ban on Flavored E-Cigarettes
While some argue the regulation could hurt his re-election, 3 in 4 Trump voters are supportive of a ban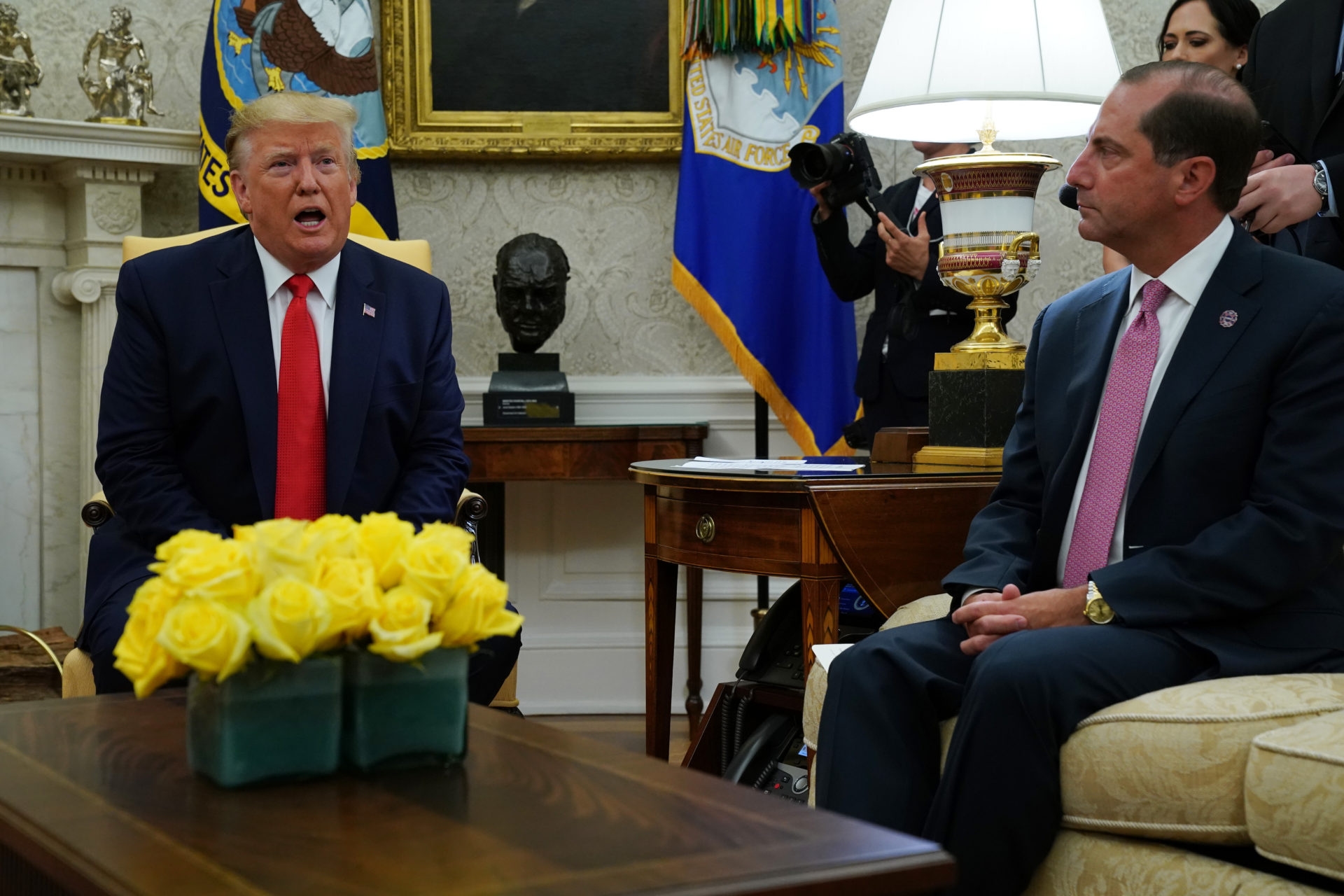 Key Takeaways
77% of Trump voters favor a ban on flavored electronic cigarettes, with 51% strongly supporting the plan.

16% oppose the ban, lending credence to conservatives' concerns about slim margins in 2020.

Americans are equally as worried about minors using e-cigarettes as they are about minors using tobacco cigarettes.
Conservative advisers to the White House are reportedly warning President Donald Trump that his administration's proposed ban on flavored electronic cigarettes could alienate voters who helped him clinch the 2016 election, claiming swaths of adult vapers in key swing states may turn on him if he proceeds as planned.
According to a survey conducted in the days after Trump announced his plan to ban the sale of flavored e-cigarettes nationwide, Americans who voted for Trump in 2016 overwhelmingly favor the proposal. Almost 8 in 10 Trump voters support prohibiting flavored e-cigarettes, with 51 percent "strongly" backing the plan.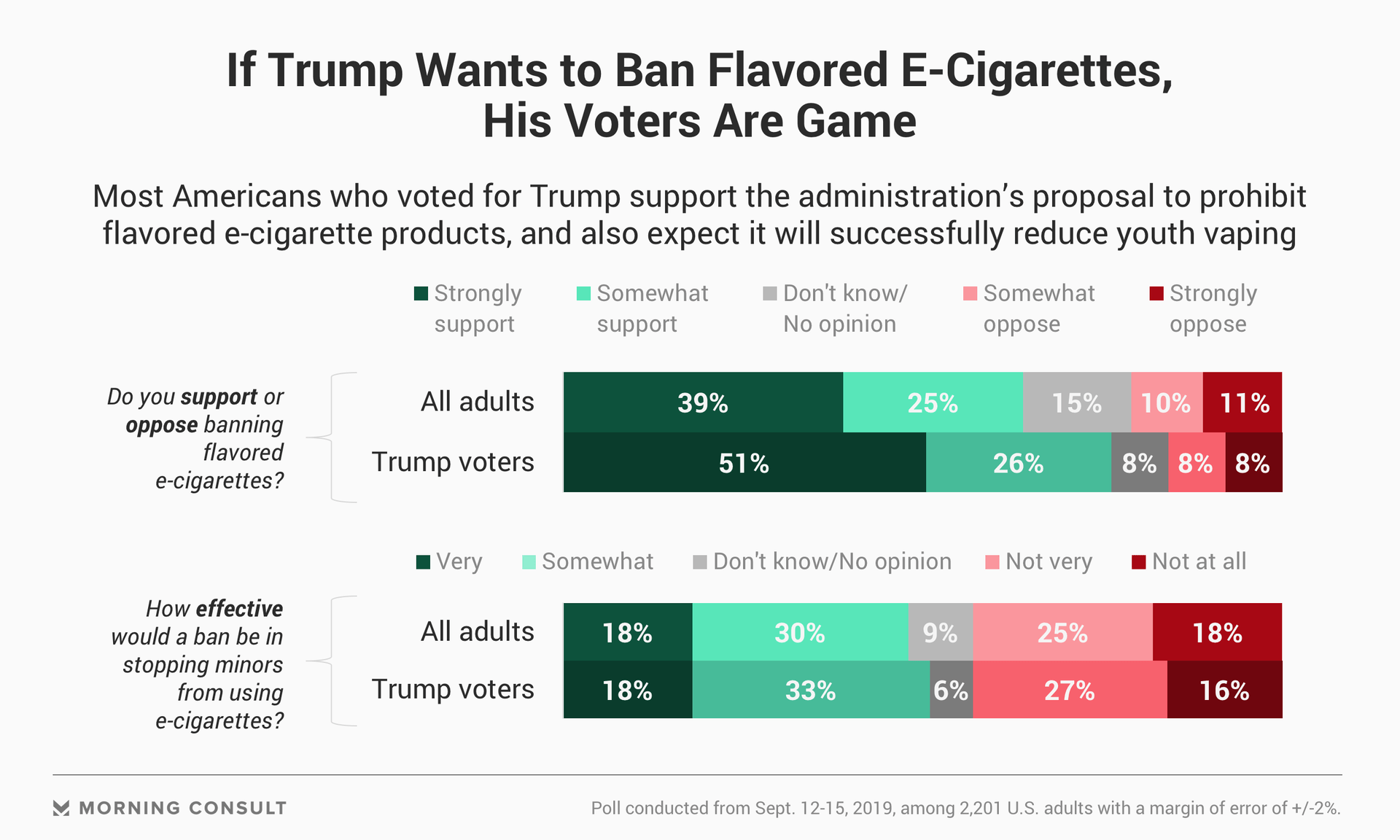 For a voter bloc generally opposed to outright government regulation, that most Trump voters are on board with a vaping ban is significant, and further underscores how quickly the issue has transcended traditional politics and hurtled to the top of the list of public health concerns facing Americans.
Still, the 16 percent of Trump voters who oppose the ban could present a challenge to Trump's re-election efforts, given his narrow margins of victory in battleground states such as Florida, Michigan and Wisconsin in 2016.
According to Axios, the conservative leaders attempting to talk the president down are citing data pushed by Americans for Tax Reform, a conservative advocacy group led by vaping enthusiast Grover Norquist. The advisers argue the vaping constituency in those states could be just enough to turn red to blue — assuming the regulation of e-cigarettes is top of mind for those voters.
The surge in youth vaping has resonated deeply with the public. Americans are now just as concerned about minors using e-cigarettes (82 percent) as they are minors smoking traditional tobacco cigarettes (83 percent), according to the Sept. 12-15 survey of 2,201 U.S. adults, which has a margin of error of 2 percentage points.
Even adults who report having smoked electronic cigarettes would welcome prohibiting flavored products, with 51 percent of the 637 self-described e-cigarette users surveyed saying they support the administration's plan. That sub-sample has a margin of error of 4 percentage points.
Although minors can't legally use any nicotine products, flavored or otherwise, the law hasn't been enough to stop them. And despite pouring millions of dollars into lobbying efforts and recently attempting to meet with Trump on the matter, the vaping industry has thus far been overpowered by federal health agencies sounding the alarm on the "epidemic" of youth e-cigarette use.
The administration's proposal, which would also clear shelves of flavors like mint and menthol, is now in the hands of the Food and Drug Administration, where former commissioner Scott Gottlieb made a crackdown on vaping a cornerstone of his tenure. Gottlieb's emphasis on regulation stood in stark contrast to an otherwise deregulatory administration, but has since been endorsed by other top health officials, including Health and Human Services Secretary Alex Azar.
The agency is still working on the final policy, but nearly half of Americans are confident that a ban would successfully pull e-cigarettes out of minors' reach, and a slim 51 percent majority of Trump voters agreed.
Yusra Murad previously worked at Morning Consult as a reporter covering health.
We want to hear from you. Reach out to this author or your Morning Consult team with any questions or comments.
Contact Us