Interest in 2020 NFL Season Tumbles Among Ardent Trump Supporters
Nearly 2 in 5 U.S. adults, and 1 in 2 Trump fans, said they're less interested in pro football this season than in past years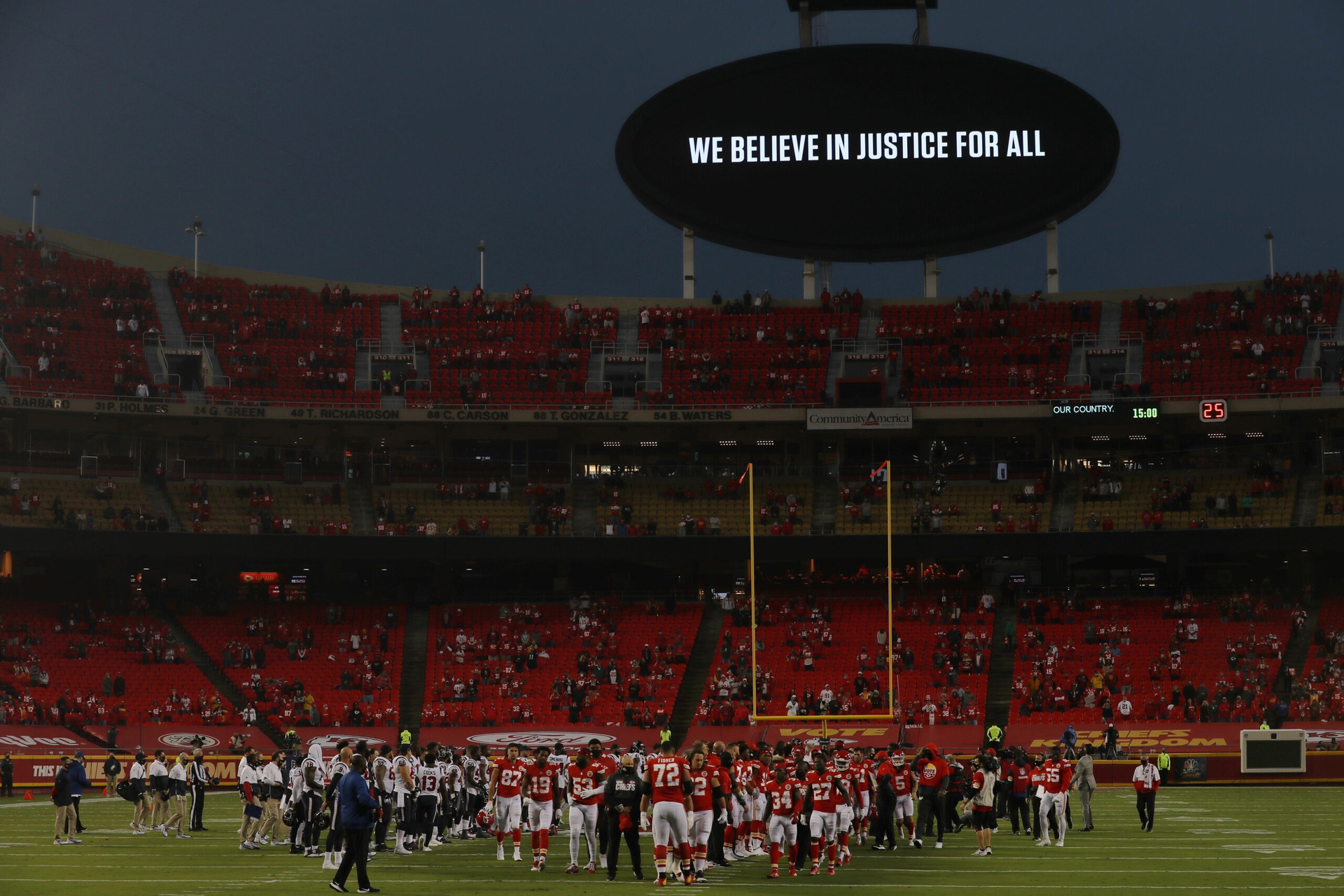 Key Takeaways
47% of ardent Trump supporters say they are less interested in this season compared to previous seasons.

41% of NFL fans favor the league's new social justice efforts, while 30% feel it is "too much."

56% of Democratic NFL fans say the league is hitting the right notes on social justice, compared to just 26% of Republican fans.
Fans who tuned into Thursday night's NFL season opener between the defending champion Kansas City Chiefs and the Houston Texans got the first look at how the NFL and its players plan to recognize the current moment in the fight against racial inequality, as well as how fans might respond.
Following the police killing of George Floyd in late May, NFL Commissioner Roger Goodell made it clear the league planned to embrace social justice activism more than ever before. But the politicization of sports following a summer of polarizing protests against police brutality and racial inequality appears to have dampened enthusiasm ahead of the 2020 NFL season.
In a Morning Consult poll conducted prior to Thursday night's game, 38 percent of U.S. adults said they were less interested in the NFL this year than in previous seasons, while 21 percent said they were more interested in the NFL than in past years.
The dip in interest is particularly pronounced among the most ardent supporters of President Donald Trump, who has in recent months regularly tweeted criticism of the league and Commissioner Roger Goodell for embracing social justice activism. Among those with a "very favorable" opinion of Trump, 47 percent said they were less interested in the 2020 season.
Self-identified NFL fans were slightly more likely to say they are more interested in this season than less interested.
Resistance to the co-mingling of activism and sports was on full display ahead of Thursday night's opener. When members of the Chiefs and Texans linked arms at midfield prior to Thursday night's game for a moment of silence "dedicated to the ongoing fight for equality in our country," an audible chorus of boos emanated from the limited crowd of 15,895 fans at Arrowhead Stadium.
Early viewership data for the game, in which the Chiefs beat the Texans 34-20, shows a 16 percent year-over-year drop in the overall audience and in the key 18-to-49 demographic from 2019's season opener between the Bears and Packers, according to Deadline Hollywood. While that figure isn't final, any ratings decline will likely serve as ammunition for critics of the league's activism, including Trump himself.
Still, polling shows there is also a significant number of fans that appreciate the league's new commitment to promoting social justice.
Ahead of the season, NFL Commissioner Roger Goodell announced that the league will support the fight for social justice on game days by painting the phrases "End Racism" and "It Takes All of Us" behind the end zones and allowing players to wear helmet decals featuring the names of victims of racial inequality or phrases that honor them. In addition, "Lift Every Voice and Sing" -- commonly referred to as the Black national anthem -- will play along with the Star-Spangled Banner prior to every Week 1 game.
The Sept. 3-7 poll found that about 2 in 5 NFL fans and more than half of nonwhite NFL fans believe the league is "doing the right things" to promote social justice on game days with its new initiatives, which were described to respondents for their consideration. Thirty percent of fans said the league is doing "too much" and 14 percent said it "isn't doing enough." 
Political affiliation continues to be the biggest fault line when it comes to opinions on issues related to activism in sports. Democratic NFL fans are more than twice as likely as Republican fans to approve of the new displays of support for social justice. More than half of Republican fans said the new measures are superfluous.
The survey of 2,200 U.S. adults carries a margin of error of 2 percentage points. The margin of error for the group of 1,322 self-identified NFL fans is 3 percentage points, and the group of 506 individuals with a "very favorable" opinion of Trump carries a margin of error of 4 percentage points.
Alex Silverman previously worked at Morning Consult as a reporter covering the business of sports.
We want to hear from you. Reach out to this author or your Morning Consult team with any questions or comments.
Contact Us