After Sha'Carri Richardson's Olympic Snub, Americans Are Divided on Whether Athletes Should Be Allowed to Use Marijuana
Data indicates Richardson would have been among Team USA's most prominent stars at the Tokyo Games
Key Takeaways
44% of U.S. adults said they agree with the World Anti-Doping Agency's classification of THC as a banned substance, while 39% said they disagree with the policy.

Gen Zers (28%) and millennials (37%) were less likely than Gen Xers (44%) and baby boomers (53%) to agree with WADA's THC ban.

Richardson's name recognition (44%) and favorability (25%) among U.S. adults following her suspension were higher than those of Megan Rapinoe and Katie Ledecky.
U.S. sprinter Sha'Carri Richardson's exclusion from the Tokyo Olympics for marijuana use has sparked debate about whether it's time for the World Anti-Doping Agency to remove THC, the drug's psychoactive component, from its list of banned substances. New research indicates that Americans are split almost evenly on whether athletes should be allowed to use cannabis.
In a Morning Consult survey conducted after Richardson was suspended late last month by the U.S. Anti-Doping Agency and left off the U.S. Olympic team, 44 percent of U.S. adults agreed that THC should be a banned substance for Olympic and professional athletes. A slightly smaller share of respondents (39 percent) disagreed that marijuana should remain prohibited.
Richardson was poised to be a breakout star in Tokyo following her 100-meter win at the U.S. Olympic trials, which qualified her for this summer's games. Days after her victory, however, the USADA announced that Richardson had accepted a one-month suspension after testing positive for THC. The ban would not have kept her from competing in the 4x100 meter relay, but USA Track and Field left her off the roster.
The 21-year-old from Dallas said she used marijuana to help cope with the recent death of her mother, and Nike Inc., a sponsor of Richardson since 2019, publicly stood by her, praising her "honesty and accountability." Richardson has since starred in a national Beats by Dre commercial that aired during Game 6 of the NBA Finals.
The lack of consensus among Americans on THC as a banned substance for athletes runs counter to recent survey results about whether marijuana use should be legal in the United States. In a December Morning Consult/Politico poll, 64 percent of registered voters said the substance should be legalized for use by the public, while 25 percent were against legalization.
Americans' attitudes toward marijuana use by athletes broke along both generational and political lines.
Older Americans were more likely than younger Americans to support WADA's policy of THC being a banned substance for athletes. 
Among baby boomers, for instance, 53 percent of respondents agreed that THC should be a banned substance, while 33 percent disagreed. Gen Zers, on the other hand, were more likely to oppose than support WADA's ban on THC by a margin of 42 percent to 28 percent.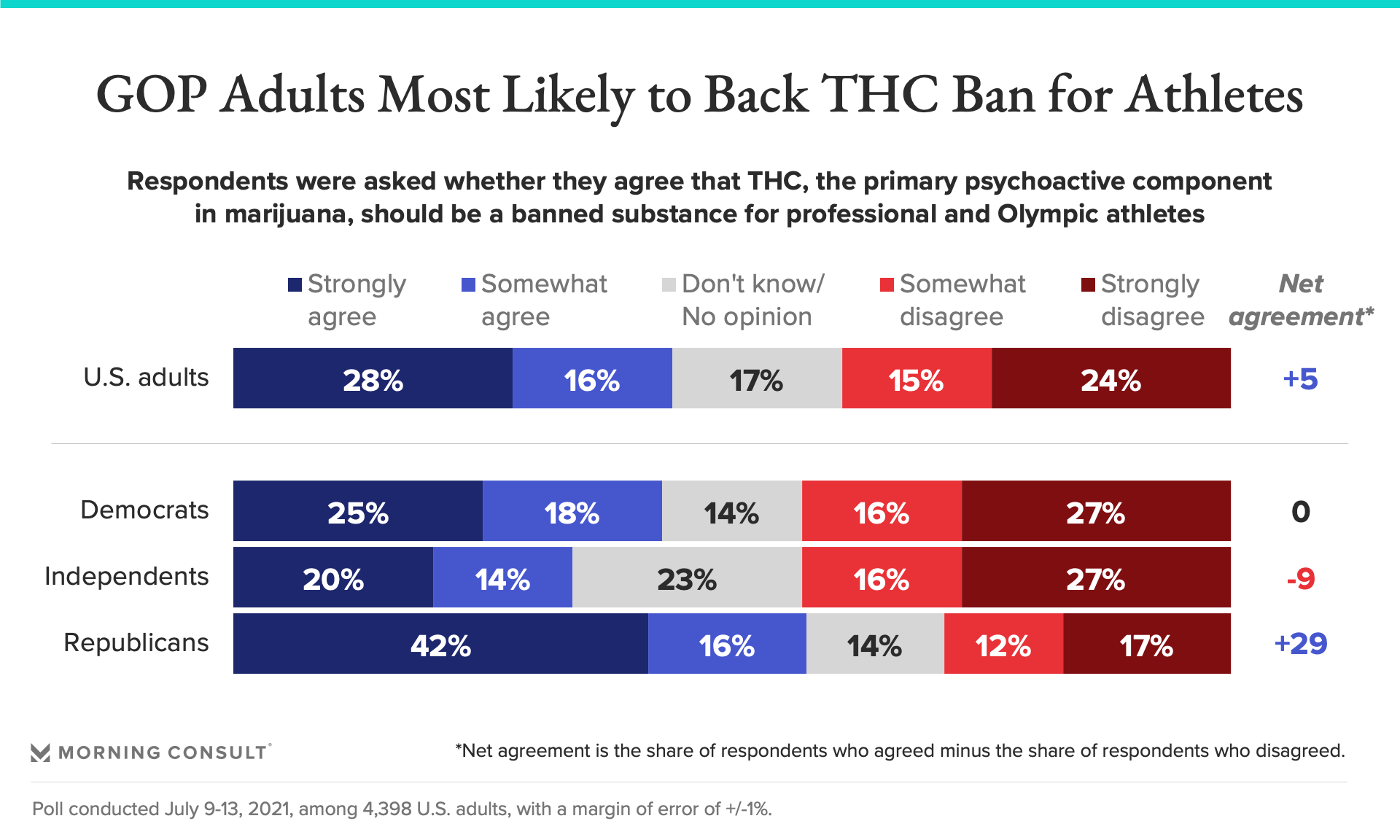 In terms of political affiliation, most Republicans (58 percent) agreed that THC should be classified as a banned substance for athletes, while Democrats were evenly split, with 43 percent of respondents coming down on each side of the issue. Independents were more likely to disagree with prohibiting athletes from using marijuana than to agree by a margin of 43 percent to 34 percent.
Despite the lack of consensus among the American public about whether athletes should be allowed to use marijuana, there is reason to believe Richardson would've been one of the most popular Americans competing at the Tokyo Olympics had she been allowed to compete.
In the July 9-13 survey, which polled 4,398 U.S. adults and has a margin of error of 1 percentage point, 44 percent of U.S. adults indicated they had heard of Richardson, and 1 in 4 said they had a favorable opinion of her. In terms of both name recognition and favorability, Richardson outranked well-established U.S. Olympic stars, including women's soccer captain Megan Rapinoe, swimmer Katie Ledecky and fellow sprinter Justin Gatlin.
In addition, social media metrics indicate that Richardson had positioned herself for a star-making turn even before her positive marijuana test became national news. 
According to data from CrowdTangle, a Facebook Inc.-owned measurement platform, Richardson gained nearly a million Instagram followers in June, more than any other athlete participating in the U.S. Olympic trials for gymnastics, swimming and track and field, by a wide margin. Her suspension by the USADA became public on July 1.
The 985,636 new Instagram followers Richardson added last month were more than three times as many as the next biggest gainer, gymnast Simone Biles. Richardson also accrued almost 10 times as many new followers as the next most popular track star, Allyson Felix.
As of Wednesday, Richardson had 2.2 million Instagram followers. According to Social Blade, another social media measurement platform, she gained more than 1.7 million of them in the past 30 days.
Alex Silverman previously worked at Morning Consult as a reporter covering the business of sports.
We want to hear from you. Reach out to this author or your Morning Consult team with any questions or comments.
Contact Us