People Are Drinking Less, but Don't Blame Millennials
Adults of all ages are cutting back as concerns about health, costs and hangovers fuel 'sober curious' trend
Key Takeaways
40% of drinking-age adults said they're drinking less than they were five years ago, and 43% of the public doesn't drink.

46% have purchased a non-alcoholic beer or cocktail, led not by teetotalers but drinking adults.

Desiring a healthier lifestyle (67%), wanting to save money (55%) and losing weight (44%) were the top reasons people have started to drink less.
Sex on the Beach isn't for everyone; some people prefer A Trip to Ikea.
The latter is the name of one cocktail at Getaway, a Brooklyn bar that has earned lots of press as Greenpoint's first booze-free bar when it opened in April, as has the pop-up sober watering hole Listen Bar. Both offer the cultural edge and Instagram appeal of a New York bar but without the buzz, calories and hangover that come with its libations.
Media reports might have you thinking -- once again -- millennials are killing another industry, but new Morning Consult polling and analysis show that adults of all ages are cutting back on drinking. Nearly half of consumers, regardless of age, have purchased non-alcoholic  alternatives, and just over 4 in 10 of the drinking-age population doesn't drink, suggesting that the "sober curious" trend has enough momentum to reshape parts of the alcohol industry.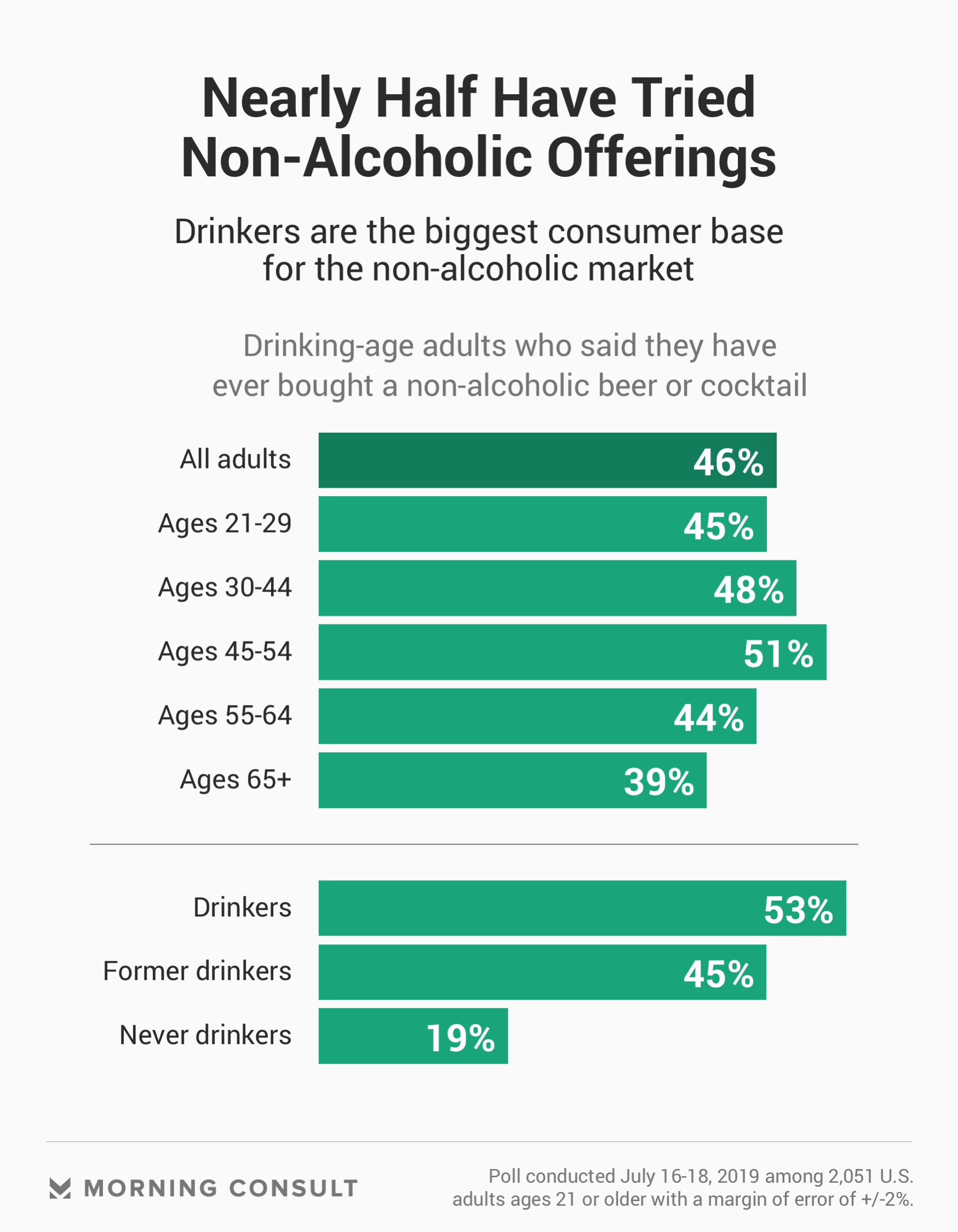 "While some of this trend has been driven by millennials, we are really starting to see the 'millennial effect,' where their behaviors influence relationships, regardless of age and lifestyle, all around them," Heidi Dillon Otto, portfolio director of Distill Ventures LLP's North America team, said in an email. Distill Ventures is the venture capital arm of Diageo PLC, the British spirits maker, which said Wednesday that it had acquired a majority stake in the non-alcoholic spirits maker Seedlip. 
Federal data doesn't necessarily show that drinking rates are plunging, however.
Fifty-five percent of adults ages 18 and older said they had a drink in the past month in 2016, the most recent year available, according to the U.S. Department of Health and Human Services' Substance Abuse and Mental Health Services Administration. That's barely moved since 2002, when 54.9 percent of adults said the same.
But in terms of volume, a July 16-18 Morning Consult poll shows that 40 percent of 1,166 U.S. adults ages 21 and older say they're drinking less than they were five years ago, and that share is about the same across all age groups. 
Compared to one year ago, 31 percent of drinkers said they're drinking less while most (56 percent) said they're drinking about as much. Younger adults, ages 21-29, are not much more likely than other age groups to say they're drinking less — in fact, given a one- and five-year timeframe, young adults are more likely than their older counterparts to say they're drinking more now.
Alcohol sales also indicate a likely trend that drinkers are consuming less. U.S. sales growth of beer, wine and spirits has slumped, per the most recent data from Nielsen. For example, sales of spirits dropped from 5.8 percent growth in the 52 weeks ending Oct. 8, 2016, to 1.8 percent growth for the 52 weeks ending Dec. 30, 2017. 
The alcohol industry is paying attention. Distill Ventures launched a dedicated non-alcoholic drinks practice in July 2017. Otto credits a focus on health, the experience economy and general curiosity in new flavors for the movement. 
According to the Morning Consult poll, 46 percent of the drinking-age population has tasted a non-alcoholic beer or cocktail.
That share stays roughly similar no matter the age. Notably, those who regularly drink are more likely to have bought a non-alcoholic drink than teetotalers, suggesting there is money to be made by the growing non-alcoholic beverage industry and that traditional alcohol brands could suffer if they don't adapt.
And those who are cutting back on drinking don't want to stop socializing. Enter brands Seedlip and Curious Elixirs, which have paved the way for the cocktail-loving "sober curious" drinkers by eliminating the awkwardness of declining a proffered cocktail or the disappointment of a soda water and lime. Their products are marketed to have the strong, bitter tastes of an adult cocktail, with less of the cloying sweetness of a Shirley Temple and other "mocktails."
A non-scientific taste test of non-alcoholic beer and wine at the Morning Consult office deemed the non-alcoholic beer, Clausthaler, and the 2016 Ariel Cabernet Sauvignon most similar to their alcoholic versions they were trying to replicate. 
Both of the non-alcoholic spirit companies said their products appeal to a wide range of customers of all (drinking) ages and all kinds of drinking (or non-drinking) habits. 
"Our customers run the spectrum from the 100 percent sober to moderately hard-drinking people who are just cutting back," John Wiseman, founder of Curious Elixirs, said in an email. "Some are just training for marathons. Others have medical conditions that don't allow them to drink."
Non-alcoholic beer makers such as WellBeing Brewing Co. LLC, Athletic Brewing Co. LLC and Bravus Brewing Co. said that while their clientele extends beyond millennials, their customers are more likely to be sober than simply "sober curious."
"Most of our demographic are older: They're boomers, they're seniors," said Philip Brandes, Bravus' founder and head brewer. "People who drink our beer just don't drink."
Brandes and others have a large pool of customers to draw from, according to the Morning Consult poll. Forty-three percent of the drinking-age public doesn't drink: 28 percent said they used to drink but don't anymore, and 15 percent said they've never drunk alcoholic beverages.
The poll was conducted among 2,051 U.S. adults age 21 and older and has a margin of error of 2 percentage points.
But producing non-alcoholic beer requires additional machinery and extra steps, depending on which method is used to ensure no alcohol slips into the final products. That extra overhead and time is something big beer brands will have to wrestle with as they consider whether to add these products to their lineup. 
However, these products won't have to answer to the excise tax of $16 per barrel for the first 6 million barrels for beer with more than a 0.5 percent alcohol level that is imposed on the largest brewers. 
To be sure, that tax can be worked into the price of the beer — and often is. A six-pack of Heineken's "0.0" costs the same as its alcoholic version on the online alcohol delivery service Drizly.
But brewers said it's extra costs related to food safety, not ancillary machinery, that could subtract from the bottom line: Non-alcoholic beer doesn't have alcohol in it to keep it stable, so quality and food safety requires a serious investment.
The industry is still experimenting with approach and price.
Athletic Brewing's co-founder Bill Shufelt said the margin profiles of NA brewers can be "all over the place" depending on which method you choose."
"I think given the right company that's already invested in these technical resources, it could be cost beneficial," said Kaylyn Kirkpatrick, a brewing extension faculty member at Cornell University's Department of Food Science.
A similar price point could scare off potential consumers, according to Morning Consult's July 16-18 survey. Cost was the second reason why people have cut back on drinking.
Seedlip's non-alcoholic spirits, which come in 23.7 fl oz containers, cost $36. That's pricier than a similarly sized bottle of Grey Goose vodka or Hendrick's Gin on Drizly, for delivery in Washington, D.C. Cocktails at Getaway are $13, including one that lists Seedlip as an ingredient, about on par with alcoholic Brooklyn cocktail prices.
Seedlip pointed to its six-week, multistep process, from sourcing to bottling, as part of the reason for its price point.
Whether consumers keep up this behavior is the "million-dollar question," said Eric Schmidt, director of alcohol research at the global beverage data and consulting firm Beverage Marketing Corp. "If it's not a fad and it is a trend, it's going to have a big impact on the alcohol industry." 
Schmidt said that brands need to adapt to this movement and that the industry should look to non-alcoholic options as a way to grow business — which will ultimately make for a tastier product for imbibers of all kinds.
"Now that you see that there's a consumer base, I think suppliers are looking at them more fervently as far as making them better and more palatable," he said. 
This story has been updated to reflect Diageo's investment in Seedlip.
Joanna Piacenza leads Industry Analysis at Morning Consult. Prior to joining Morning Consult, she was an editor at the Public Religion Research Institute, conducting research at the intersection of religion, culture and public policy. Joanna graduated from the University of Wisconsin-Madison with a bachelor's degree in journalism and mass communications and holds a master's degree in religious studies from the University of Colorado Boulder. For speaking opportunities and booking requests, please email [email protected].
We want to hear from you. Reach out to this author or your Morning Consult team with any questions or comments.
Contact Us