Pumpkin Spice Products Are Arriving Earlier. This Year More Than Last, Some Consumers Say Bring It On
1 in 4 U.S. adults say late August is the perfect time for selling pumpkin spice products; 19% said the same last year
Key Takeaways
Half of Gen Zers and 49% of millennials said early September is just the right time to release pumpkin spice products.

The largest share of consumers, 73%, said mid-October is the best time for companies to sell pumpkin spice lines.
Once upon a time, August meant sipping cool drinks on a hot beach. Nowadays, it's essentially the unofficial start of fall for companies that are bringing back their pumpkin spice products earlier each year.
While the majority of consumers think August is too early for brands to sell pumpkin spice items, the share who are ready to embrace the fall flavor during the dog days of summer has grown since last year, with younger generations especially open to early sales, according to new Morning Consult trend data.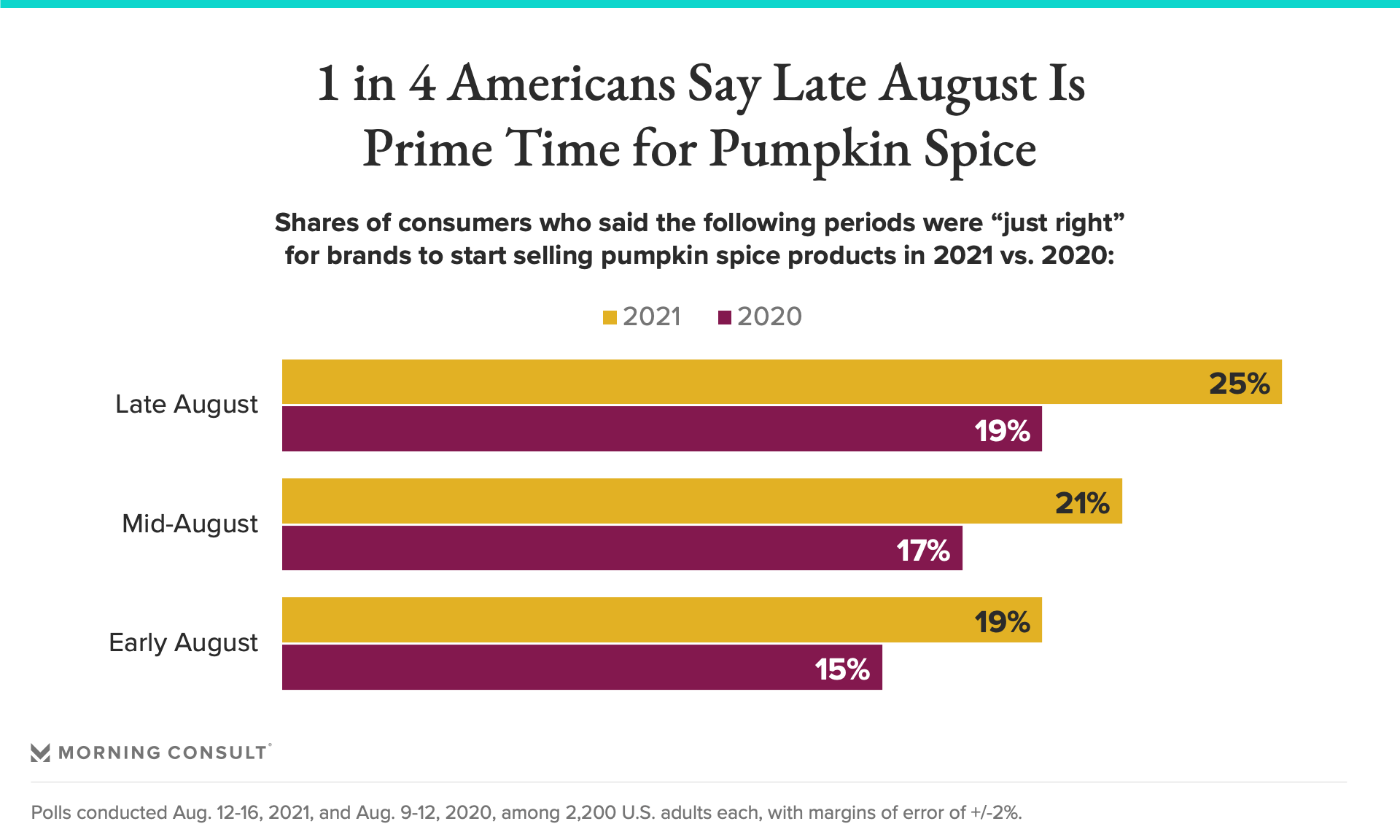 Morning Consult asked consumers between Aug. 12-16 which time period they thought was too early, too late or just right for companies to start selling pumpkin spice products, and 1 in 4 Americans said late August is prime time for pumpkin.
That's up 6 percentage points from the 19 percent who said the same last year. Both surveys were conducted among 2,200 U.S. adults and have a margin of error of 2 points.
The share who said mid-August (21 percent) is "just right" rose 4 points from last year, as did the share who chose early August (19 percent).
"I don't think 'too soon' is a thing right now," said Nic Climer, managing partner and executive creative director at Omnicom Group Inc. marketing agency RAPP, who has previously worked on campaigns for seasonal products such as McDonald's Corp.'s Shamrock Shake. "People are still really craving something to look forward to these days, so brands have a huge opportunity to bring people joy. If pumpkin spice is your thing, and your audience loves it, people need that extra zing in their life right now."
So, who are the biggest fans of pumpkin spice when the sun is still out in the evening? Adult members of Generation Z fit the bill, as do millennials, who are roughly as pro-pumpkin spice as their younger peers.
Both demographics were more likely than the general population to say August and September were the right time to begin selling pumpkin spice products. (The differences between adults and Gen Zers for mid-August, and adults and millennials for early August and late September, fell within the survey's 6-point margin of error for Gen Z and 4-point margin of error for millennials.)
The shift in attitude reflects changing sales timelines at two major coffee chains: Dunkin' rolled out its fall menu this week, earlier than ever. In 2020, Starbucks Corp. released its famous -- or perhaps infamous, depending on whom you ask -- pumpkin spice latte unprecedentedly early on Aug. 25.
While Starbucks declined to say when the seasonal latte will hit stores this year, the company announced earlier this month the expansion of its at-home pumpkin spice line to include a non-dairy creamer and a cold brew concentrate.
Still, October is the most preferable time to start buying pumpkin spice products, all generations agree, according to the poll. Roughly 3 in 4 consumers (73 percent) said mid-October is the sweet spot for selling these items. Seventy-two percent said early October, and 71 percent said late that month is best. Similar shares agreed when Morning Consult asked the question last year.
Among the 64 percent of people who think August, on average, is too soon for pumpkin spice, marketing experts said even if they're bothered by these promotions, there's little to worry about from the companies' perspectives. 
"Brands do run the risk of going a little bit overboard, but the worst thing that can happen is they get some free press," said Matt Kleinschmit, founder and chief executive of Reach3 Insights, which works with brands such as Snap Inc. and Diageo PLC on seasonal consumer engagement strategies.
However, companies run the risk of confusing consumers with earlier summer rollouts of fall-associated flavors like pumpkin spice, which could be particularly detrimental, said Christie Nordhielm, an associate teaching professor of marketing at Georgetown University's McDonough School of Business, and the founder and former CEO of marketing agency Big Picture Partners.
"Confusion is the worst possible outcome for a marketer," Nordhielm said. "It's worse than backlash -- at least that creates awareness."
As pumpkin spice products hit shelves sooner each year, these launches run the risk of dulling their impact, Nordhielm said. And profitability might go down, according to Climer, if people stop buying by the time it's actually autumn.
"Seasonal promotions work because they're special. They're unique," Nordhielm said. "As long as they stay special, they will work. But as this race to launch earlier and earlier continues, they'll become less special."
Some fanatics believe this shouldn't even be a debate: 40 percent think pumpkin spice products should be available year-round, an increase of 3 points from last year, while a slightly larger share (45 percent, flat from 2020) said pumpkin spice should be strictly seasonal.
And it's not just coffee. Brands continue to push the boundaries of pumpkin spice, as seen in Nissin Foods' recent announcement that it will sell Pumpkin Spice Cup Noodles at select Walmart Inc. stores in October.
The survey suggests it's not a bad move, as 56 percent of consumers said they enjoy pumpkin spice-flavored savory products, the same share who said the same about pumpkin spice candy.
Pumpkin spice-flavored sweets such as baked goods and ice cream were particularly popular -- even more so than coffee -- while consumers responded less favorably to pumpkin spice liquors and beers.
Alyssa Meyers previously worked at Morning Consult as a reporter covering brands and marketing.
We want to hear from you. Reach out to this author or your Morning Consult team with any questions or comments.
Contact Us