Influencers Are the New Travel Agents for Millennials, Generation Z
57% of Gen Zers with summer travel plans said they'll look to social media to help them prep, the same share who said they'll use travel sites
Key Takeaways
38% of all adults who expect to travel this summer said they'll use social media to help plan their trips, including 54% of millennials.

49% of Gen Z adults and 50% of millennials follow at least one travel influencer on social media.
As Americans gear up to travel this summer, many are looking online to plan their trips, with majorities of younger travelers making use of social media in particular.
Travel planning sites such as Tripadvisor and Expedia are still the go-to resource for most adults who intend to vacation this summer, according to new polling from Morning Consult: 57 percent said they'll use sites such as those, compared to 38 percent who said they'll use social media and 19 percent who will work with a travel agent.
Gen Z travelers, however, are just as likely to use social media for vacation planning as they are to use traditional travel sites. Millennials are more likely to rely on social media than the general population, although they still favor travel sites.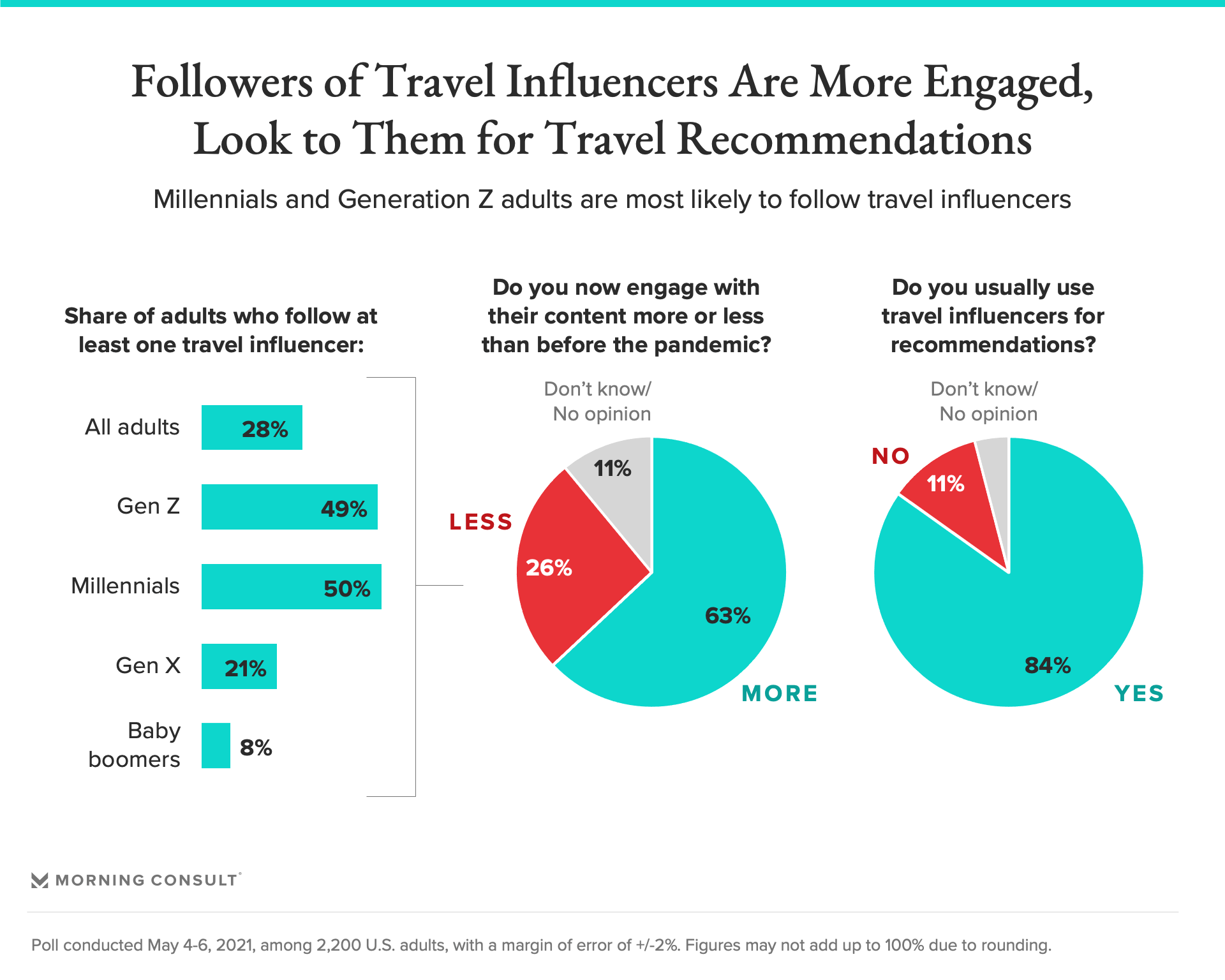 Eighty-four percent of those who do follow travel influencers said they've turned to them for recommendations, and 63 percent said they're engaging with that content, such as posts and reviews, now more than they were before last year's initial lockdowns, indicating that influencers could be an important resource for travel brands looking to lure back all types of consumers.
Some, it seems, have already picked up on this trend. Alaska Air Group Inc. is betting even baby boomers can be influenced, and is reportedly looking to recruit a group of boomer influencers to live in its own version of the Hype House, a mansion in Los Angeles where young TikTok stars create content. 
"A lot of travel advertisers are starting to come back online, and they're turning to influencers to plan their campaigns," said Liz Montiel, vice president of partnerships at influencer marketing agency Social Native, whose client roster has included hotels, airlines and rental car companies.
Even for travelers who aren't social media savvy, they're planning in advance for summer trips in other ways.
Roughly 1 in 3 adults (34 percent) expect they'll need to book their travel accommodations further in advance than they would have prior to the pandemic, and 46 percent said they expect to plan more for travel in general, according to the survey.
Pinterest is particularly prominent among social media sites when it comes to travel planning, Montiel said.
"A lot of people go there as a place to start, and then they can move over to Instagram to do things like save and bookmark some of these iconic destinations or a hotel they see an influencer staying at," she said.
On Pinterest, searches including the word "vacation" have historically increased from January to March, by an average of 24 percent during that time in 2019 and 2020. This year, however, those searches spiked three times as fast, according to a recent post from Pinterest Inc.
"We're seeing a major shift in the way people are planning for upcoming travel plans on Pinterest right now," said Ashish Arya, the company's global head of strategy and marketing for travel, in an email. "Our insights are helping brands move travelers from inspiration to booking." 
For instance, Pinterest said United Airlines Inc. is using its platform to drive flight bookings as it increases its schedules, advertising new routes, deals and sustainability initiatives by targeting members and nonmembers with different campaigns. 
There's also opportunity for travel brands to effectively leverage TikTok, Montiel said, citing the recent trend of airlines recruiting their own flight attendants to post videos reminding skeptical travelers what it's like to fly and facilitating positive discussions about travel. 
That's different from the discourse that companies in the travel space associate with Twitter, where consumers often turn to lodge customer service complaints, Montiel said.
Travel content is ramping up on TikTok whether or not brands in the space are involved, according to data provided to Morning Consult by Kyra Media, which specializes in connecting brands with Gen Z consumers, and uses its proprietary tool, Kyra IQ, to track brands and conversations across platforms. 
Daily posts on TikTok using "#travel," "#holiday" and "#flying" generally climbed from January to reach an average peak around early to mid-April this year, according to analysis of Kyra IQ data. Posts with all three hashtags are still relatively common this month compared to earlier in the year.
Jenna Isken, associate director of experience -- including digital experience -- at Omnicom Group Inc. strategic branding firm Siegel+Gale, agreed that TikTok is an ideal platform for starting conversations about travel, and also pointed to Instagram as a resource for travel brands to convey authenticity through photos and video clips.
The problem there, Isken said, is that brands tend to overcurate their images. Glossy, brochure-like photos might have attracted some consumers before the pandemic, she said, but now, people are looking for more authenticity and instant answers to an ever-changing list of questions about travel safety. 
Cue the influencers.
"Influencers are more adaptable," Isken said. "They're ready to give you more up-to-date information, often because it's a single person or a smaller team working to develop a piece of content, rather than different groups having to go through lawyers before posting."
Influencer marketing is primed for a strong summer, but Isken said she hopes brands look beyond the next few months as they plan marketing strategies.
"Sometimes large brands look at influencer marketing as a short-term investment, and as the travel industry looks to bounce back, it could potentially see influencers as a quick way to get to that end goal," she said. "But the ones that are going to succeed are going to figure out how to make this a large part of their brand experience approach going forward."
Alyssa Meyers previously worked at Morning Consult as a reporter covering brands and marketing.
We want to hear from you. Reach out to this author or your Morning Consult team with any questions or comments.
Contact Us