Most Americans Want Thanksgiving to Be a Holiday From Shopping
But major retailers find 'Gray Thursday' too lucrative to pass up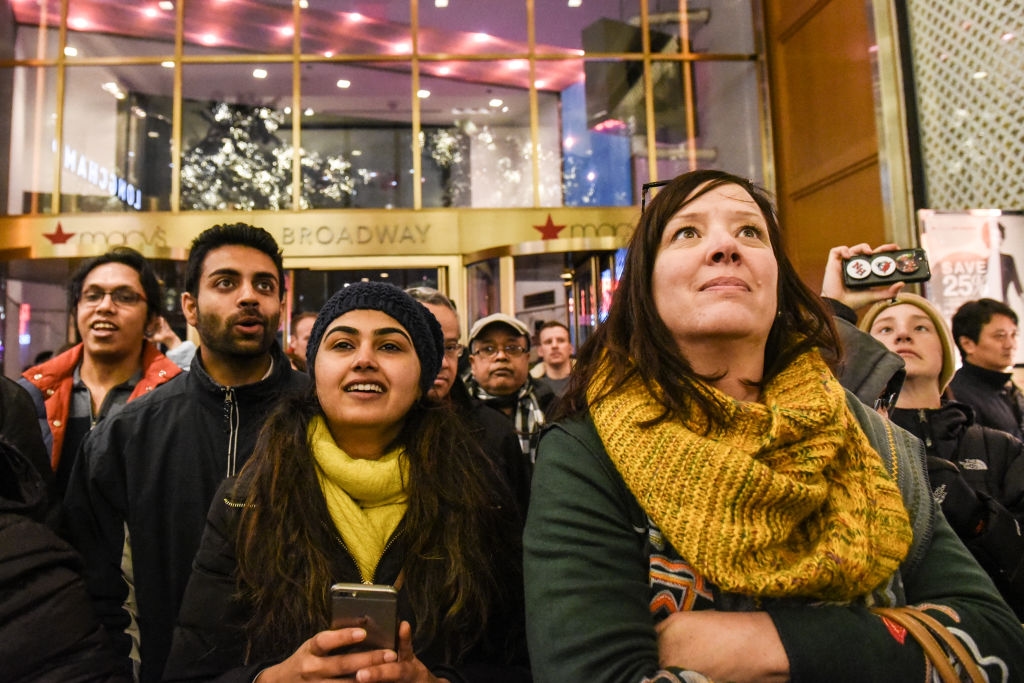 Key Takeaways
52% oppose stores opening for shopping on Thanksgiving Day.

31% support the practice, including 53% of Gen Zers.

Half of adults would be more likely to visit a store in the future if it actively stayed closed on Thanksgiving.
Retail promotions have seeped into nearly every American public holiday, from Labor Day sales to Mother's Day specials. Just two days have traditionally stood apart from the shopping frenzy: Thanksgiving Day and Christmas Day. And when it comes to Turkey Day, most Americans would like to keep it that way.
A Morning Consult survey conducted Nov. 1-3 among a national sample of 2,201 adults finds 52 percent oppose stores opening for shopping on Thanksgiving Day. That includes 58 percent of women -- 11 percentage points higher than the share of men who are against the practice. The survey has a 2-point margin of error.
Respondents' reasons are clear: Thanksgiving should be a time of rest -- not a day when employees have to be away from their family and friends.
Public holidays and the retail trade have long been intertwined in American history -- especially around Thanksgiving weekend, considered the official start of the holiday shopping season.
In 1939, when Thanksgiving, traditionally held on the last Thursday of November, was due to fall on the last day of the month, then-President Franklin D. Roosevelt acceded to requests from retailers to move the holiday one week earlier and extend the shopping season -- resulting in an uproar among critics and consternation in states on whether to abide by the new date. Roosevelt ended the whole affair -- known as "Franksgiving" -- two years later by establishing the holiday on the fourth Thursday in November.
But for retailers trying to survive in a world of Amazon.com Inc. and amid the bankruptcies of previous stalwarts such as Sears Holdings Corp. and Toys R Us Inc., it's hard to resist the pressure to open their doors ahead of rivals.
Since the recession, the opening gong of the holiday shopping marathon has sounded earlier and earlier, from 5 a.m. on Black Friday to 8 p.m. -- or earlier -- on so-called "Gray Thursday." With the advent of many online deals from Nov. 1, some analysts are starting to use the term "Black November."
While many grocery stores and convenience shops maintain holiday hours for last-minute items, Kmart Corp., now a unit of Sears, was one of the first major retailers to open its doors on Thanksgiving Day, back in 1991.
Back then, as the country's second-largest retailer, the chain was trying to get an edge over rivals during a sluggish economy, according to the Los Angeles Times. But competitors were reportedly more cautious: The newspaper quoted a director at Wal-Mart Stores Inc. (now known as Walmart Inc.) who fretted that holiday openings could antagonize religious Americans.
Times have changed. Nearly three decades later, Walmart is offering customers free cookies and coffee to mark the holiday at 4 p.m. on Thanksgiving Day and offering holiday deals in stores starting from 6 p.m., while Macy's will open at 5 p.m. Neither retailer responded to a request for comment.
In 2011, Walmart said it started offering holiday deals at 10 p.m. in response to customer demand to shop late on Thanksgiving Day, rather than waking up early on Black Friday.
In all, a list on website BestBlackFriday.com shows more than 50 major retailers will be open that day, including Best Buy Co. Inc., J.C. Penney Co. and Target Corp.
Though some states have laws that prohibit stores from opening on holidays such as Thanksgiving, a sizeable share of Americans do plan to shop that day: The National Retail Federation forecast last year that a fifth of customers going to stores during Black Friday weekend would shop on Thanksgiving Day -- though that's down from a quarter in 2013. The NRF did not respond to a request to provide this year's forecast for the holiday.
Thirty-one percent of U.S. adults support stores opening on Thanksgiving --including a majority of those ages 18-21, according to the Morning Consult survey.
When asked why, 52 percent of these respondents were attracted by deals offered that day, while 41 percent said it may be some people's only day off to shop. The youngest adults were most likely to cite the attraction of holiday pay -- which some of them may be taking advantage of: Last year, the median age of clothing and shoe store employees was under 30, versus 42 years for workers as a whole.
Michelle Weinberger, an associate professor who researches consumer culture at Northwestern University, said Thanksgiving helps families reconnect -- something young people may not yet realize or value.
"When a business decides to open on Thanksgiving, they are taking that sacred family time away from employees in favor of profits," she said in an email.
And the survey shows consumers may reward companies that purposefully close on the holiday: Half of adults said they'd be more likely to plan a future visit to a store that decided to stay closed on Thanksgiving Day. (Another 37 percent said it would make no difference.)
Some retailers have seen a benefit to taking the day off. CBL Properties, which owns and manages 114 malls and other properties, announced in 2016 that it would start closing on Thanksgiving Day. It plans to do the same this year, citing the "overwhelming" support it has received from customers and retailers over the last two years.
Outdoor retailer Recreational Equipment Inc. took it a step further by announcing in 2015 that it would close all its stores on Black Friday and instead encourage REI employees to spend time outside.
BestBlackFriday.com's list shows 75 major chains will be closed this Thanksgiving Day, which website co-owner Phil Dengler said was the highest number since the site started keeping full records on retailers' Black Friday activities in 2015.
Anna Yukhananov previously worked at Morning Consult as an editor for features and policy coverage.
We want to hear from you. Reach out to this author or your Morning Consult team with any questions or comments.
Contact Us