Presidential Contest Tightens as Campaigns Move Into Eight-Week Home Stretch
Biden now leads Trump by 6 points nationally, 50% to 44%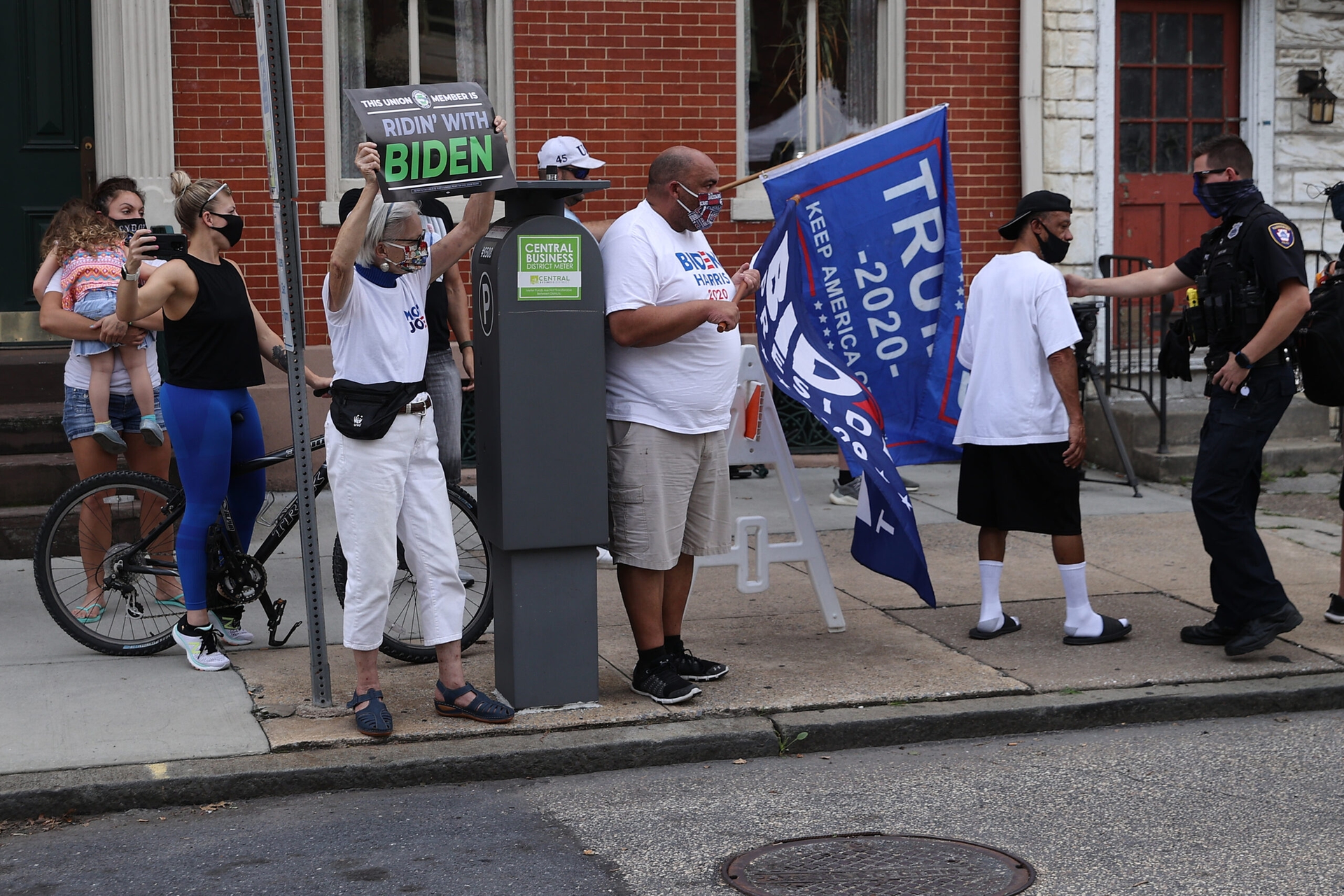 Key Takeaways
Joe Biden has hovered at or above 50% support in daily polls conducted since the first week of June, while President Donald Trump has polled between 42% and 45% since May.

At the state level, Biden leads Trump outside of the margin of error in Florida, Pennsylvania and Wisconsin.

40% of voters approve of Trump's handling of COVID-19, up 4 points from late July, and 54% disapprove, down 5 points over the same time period.
Former Vice President Joe Biden's substantial polling lead over President Donald Trump has narrowed in recent days, though the Democratic nominee maintains an advantage over the incumbent nationally and in key battleground states as the contest enters its final eight weeks.
According to the latest daily tracking from Morning Consult Political Intelligence conducted Sept. 5-7, Biden leads Trump by 6 percentage points among likely voters nationwide, 50 percent to 44 percent. Biden's numbers -- superior to Hillary Clinton's position against Trump at this point four years ago, with fewer undecided voters than in 2016 -- look more like his standing in May and early June than his 8- to 9-point daily leads throughout much of the summer.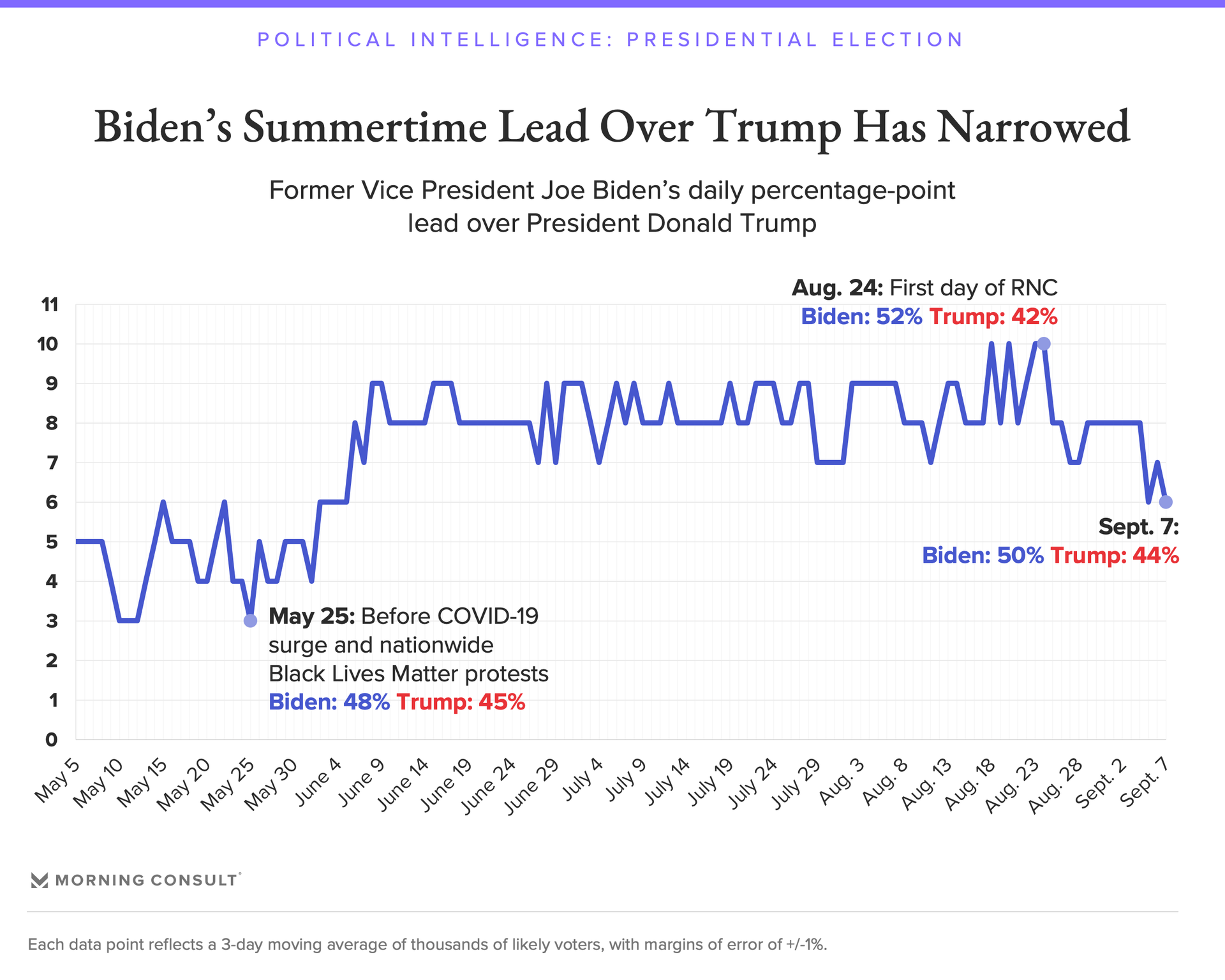 The tightening at this moment, which traditionally marks the kickoff of the fall campaign season, is statistically significant but numerically modest, underscoring the relative stability of the race and durability of the Democrat's edge. Biden has hovered at or above 50 percent since the first week of June, and Trump -- who has never led Biden nationally in Morning Consult's tracking -- has polled between 42 percent and 45 percent among likely voters since May. Each of the daily data points is based on a 3-day moving average of responses and has a 1-point margin of error.
Trump's best national numbers came in late May, before a post-Memorial Day surge of COVID-19 cases and the national unrest sparked by the police killing of George Floyd. The twin crises brought voter sentiment to its lowest point of Trump's presidency, and coincided with an increase in Biden's national lead.
In recent weeks, another round of protests -- this time over the police shooting of Jacob Blake in Kenosha, Wis. -- have dominated the headlines as coronavirus cases have declined along with voter concern over the pandemic. While Biden has a trust advantage with voters on both race relations and public safety concerns, the contest's shift to issues of law and order has helped to move the national dialogue away from the coronavirus pandemic, a topic that's been a political loser for Trump and was a prominent subject during the Democratic National Convention.
Since a late July foundering, Trump's net approval rating on the virus -- the share who approve of his handling of its spread minus the share who disapprove -- has increased 9 points, with 40 percent now approving and 54 percent disapproving, according to a Sept. 2-6 Morning Consult survey of 1,965 registered voters, which has a 2-point margin of error.
And compared with a Morning Consult poll conducted July 31 through Aug. 2, the share of voters who label the pandemic a "severe health risk" in their communities has fallen 7 points, to 29 percent, while the share who dubbed it a severe risk in the United States fell by 9 points to 57 percent -- its lowest point since the first week of June. 
While the national race appears to be narrowing slightly, Morning Consult's state-level polling shows a relatively stable race in battlegrounds since before the parties' national conventions last month. Responses collected Aug. 29 through Sept. 7 -- entirely after the conclusion of the Republican National Convention on Aug. 27 -- show the race statistically unchanged in 10 states since early August. That includes Wisconsin, where Biden continues to lead, suggesting that unrest in Kenosha has done little to alter the electoral status quo.
The lone state to show significant movement during the past few weeks is Arizona, where Biden turned a 2-point deficit into a 10-point lead in polling conducted after his party's convention, though Trump clawed back to within 3 points (46 percent to 49 percent) in the latest survey. 
In addition to the Badger State, Biden also continues to hold advantages over Trump outside of the margin of error in the key states of Florida (50 percent to 45 percent), Michigan (52 percent to 42 percent) and Pennsylvania (50 percent to 45 percent), while the presidential race is statistically tied in Arizona, Colorado, Georgia, Minnesota, North Carolina and Texas.
Across the contested states Morning Consult is tracking, Trump only leads Biden outside of the margin of error in Ohio, 50 percent to 45 percent. 
Eli Yokley is Morning Consult's U.S. politics analyst. Prior to his current role, Eli was Morning Consult's senior reporter covering U.S. politics. Eli joined Morning Consult in 2016 from Roll Call, where he reported on House and Senate campaigns after five years of covering state-level politics in the Show Me State while studying at the University of Missouri in Columbia, including contributions to The New York Times, Politico and The Daily Beast. Follow him on Twitter @eyokley. Interested in connecting with Eli to discuss his analysis or for a media engagement or speaking opportunity? Email [email protected].
We want to hear from you. Reach out to this author or your Morning Consult team with any questions or comments.
Contact Us