Consumer Spending Rebounded in January, but Demand Recovery Remains Vulnerable to Inflation Risks (Report Preview)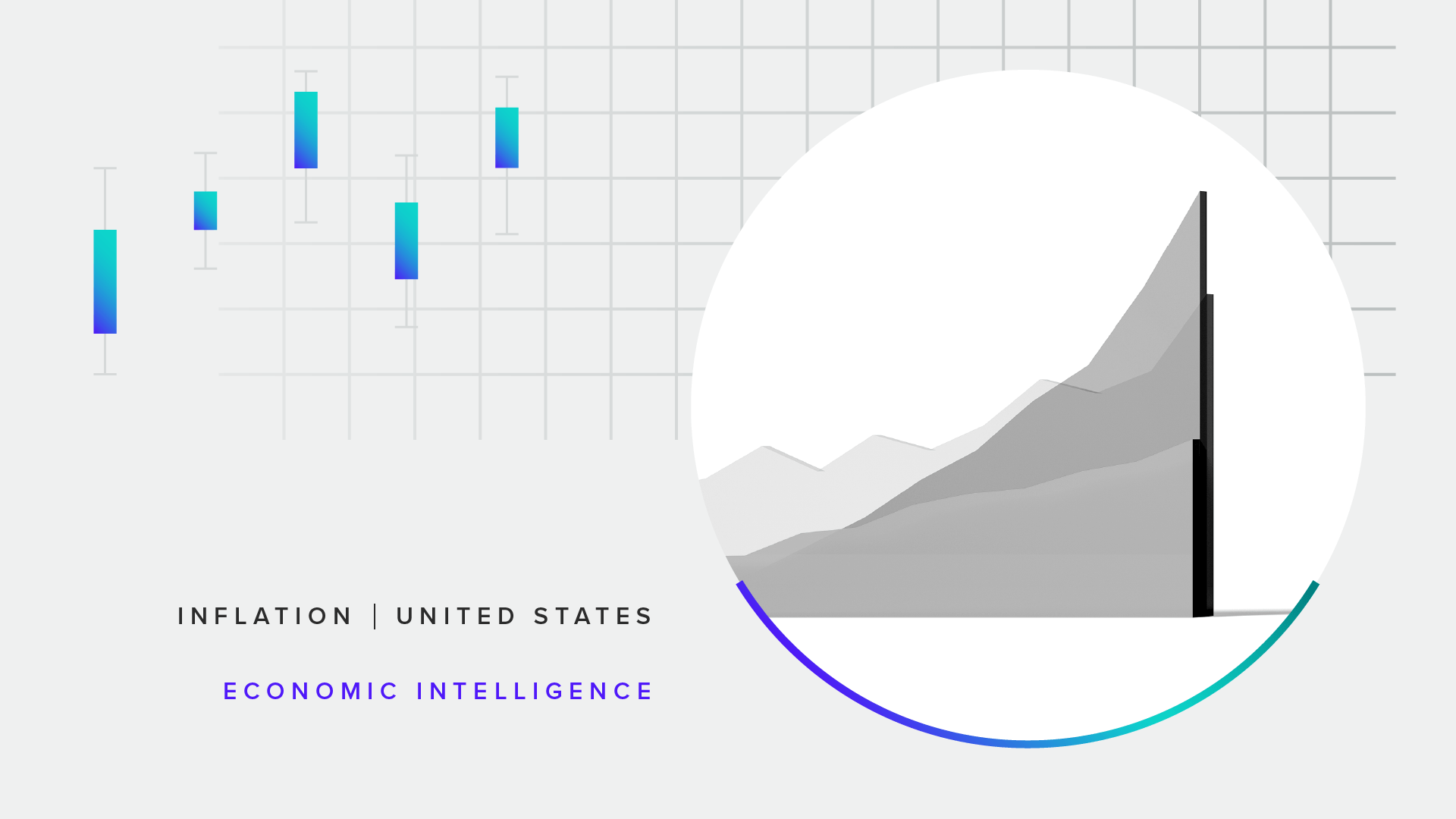 U.S. consumer spending recovered in January after several months of belt-tightening. Rising incomes and a bump in savings put consumers in a better position to cover expenses and pay down debt last month. But despite these welcome improvements, the uncertain path of inflation remains a threat to purchasing power and consumer demand going forward.  
Key Takeaways
Consumer spending rebounded in January, snapping a two-month decline. 

Household finances improved as the gap between incomes and expenses narrowed, though purchasing power remains subdued amid persistent high inflation. 

Inflation remains a threat as competing supply and demand pressures across categories add uncertainty to the future path of price growth. 
This memo offers a preview of Morning Consult's February U.S. Consumer Spending & Inflation Report. Morning Consult Economic Intelligence subscribers can access the full report here.
Morning Consult's measure of real consumer spending increased in January after two straight months of reduced outlays. Spending growth was broad based, boding well for the Bureau of Economic Analysis' personal consumption expenditures report later this month. Not only did services categories continue to benefit from consumers' reallocation of budgets toward these categories in the wake of the pandemic, but goods categories also registered a boost in purchases. Categories such as autos helped support a rebound in retail spending after sharp declines in the previous months.
All income groups contributed to monthly spending gains. However, recent improvements shouldn't be mistaken for a sign of full recovery. On an annual basis, more than half of spending categories tracked by Morning Consult fell, and the lowest earners recorded sizable declines in real spending.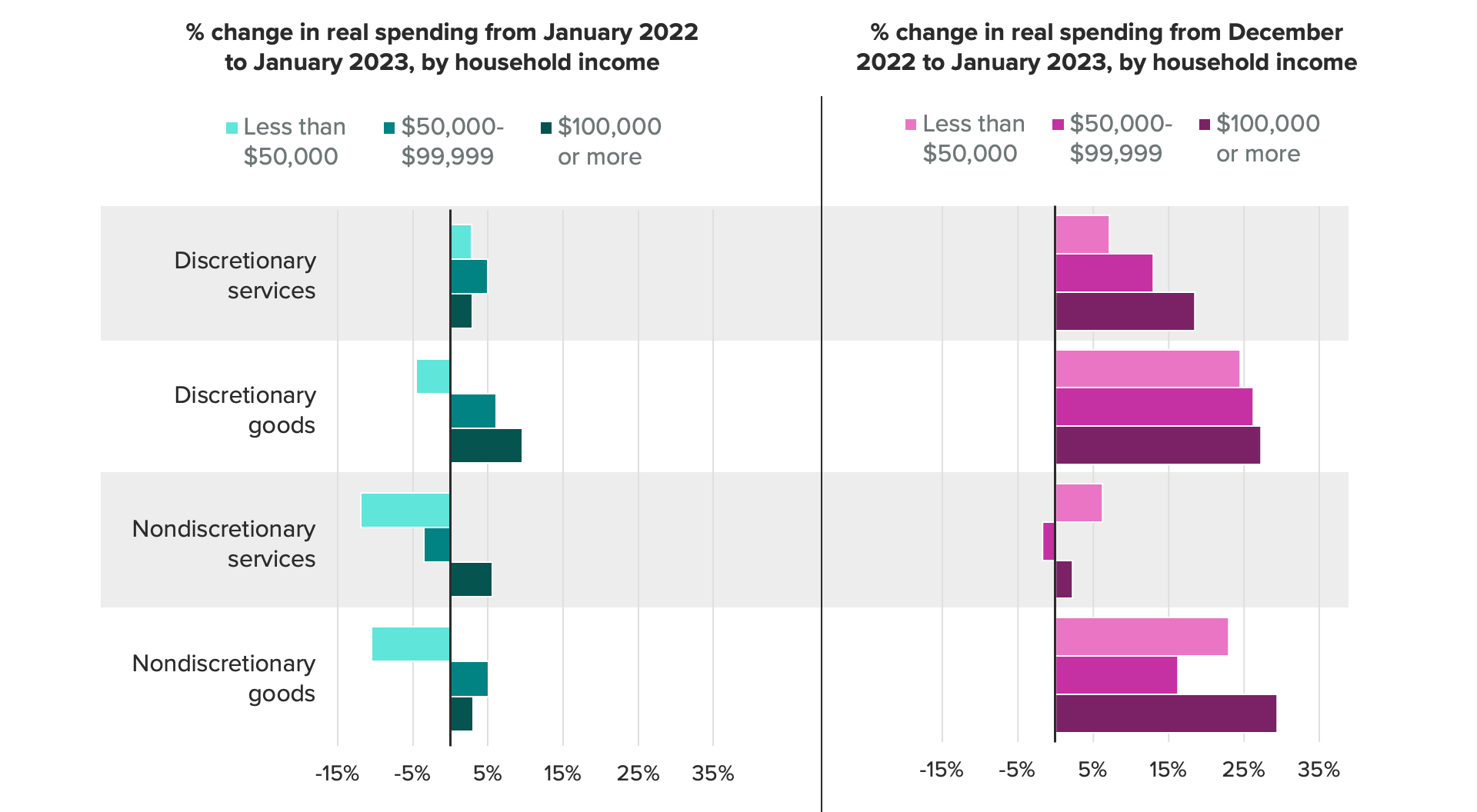 Source: Morning Consult Economic Intelligence
Household finances found firmer footing as the gap between income and expenses narrowed. Lower spending in November and December coincided with a slight increase in real disposable incomes and a jump in the savings rate. These factors left consumers with a bit more breathing room in January, enabling more households to add to savings or pay off debts. Stifling inflation continues to pinch purchasing power, however, with consumers of all income groups still more likely to report worsening financial situations than improving ones.
Monthly inflation ticked higher in January, serving as a reminder that the Federal Reserve's fight against inflation is far from won. Annual inflation continued to slow in January, and Morning Consult's data suggests some price relief may lie ahead in February. However, upside risks continue to percolate for a variety of categories. Softer demand growth for categories such as housing and other services, as well as loosening supply constraints for goods like groceries, may help cool price growth later this year. Meanwhile, decelerating price growth for other components that have thus far served as a helper — such as large durables — may be heading for a floor. Competing price pressures will shake out in the months to come, but the mixed signals are unlikely to allow for a swift resolution to the inflation fight this year.
About this report
Morning Consult's monthly U.S. Consumer Spending & Inflation Report provides a detailed assessment of U.S. adults' self-reported household financial conditions and spending, as well as consumers' perception of inflation and supply chain disruptions and the impact of both on purchasing decisions. 
Businesses and investors rely on this report to understand emerging trends in consumer demand, purchasing power and shopping patterns across demographics.
The report draws on Morning Consult Economic Intelligence, a high-frequency data set reflecting more than 17,000 daily economic surveys across the world's 44 largest economies. Full methodology can be found here.
Kayla Bruun is a senior economist at decision intelligence company Morning Consult, where she analyzes consumer spending, inflation and household finance trends, leveraging the company's proprietary high-frequency data.
Prior to joining Morning Consult, Kayla was a key member of the corporate strategy team at telecommunications company SES, where she produced market intelligence and industry analysis of mobility markets. 
Kayla also served as an economist at IHS Markit, where she covered global services industries, provided price forecasts, produced written analyses and served as a subject-matter expert on client-facing consulting projects. 
Kayla earned a bachelor's degree in economics from Emory University and an MBA with a certificate in nonmarket strategy from Georgetown University's McDonough School of Business.
Follow her on Twitter @KaylaBruun. For speaking opportunities and booking requests, please email [email protected]
Sofia Baig is an economist at decision intelligence company Morning Consult, where she works on descriptive and predictive analysis that leverages Morning Consult's proprietary high-frequency data. Previously, she worked for the Federal Reserve Board as a quantitative analyst, focusing on topics related to monetary policy and bank stress testing. She received a bachelor's degree in economics from Pomona College and a master's degree in mathematics and statistics from Georgetown University.
Follow her on Twitter @_SofiaBaig_For speaking opportunities and booking requests, please email [email protected]
We want to hear from you. Reach out to this author or your Morning Consult team with any questions or comments.
Contact Us