Rewards Programs Don't Create Customer Loyalty on Their Own
Retail & e-commerce analyst Claire Tassin examines the impact of rewards program features and benefits on consumer loyalty
Key Takeaways
Rewards programs aren't brand loyalty drivers in and of themselves, and in most cases fewer than half of self-described loyal customers are members of a brand's rewards program.

Rewarding a range of desirable behaviors can be beneficial to brands as a means of keeping high-value customers engaged, but it should go beyond earning and redeeming points.

Loyalty and rewards programs provide rich data assets that can be mined for insights to improve all customers' experiences with a brand, so keeping more of them engaged in these programs should have extensive impacts on brand loyalty across the board.
Sign up to get the latest global brand, media and marketing news and analysis delivered to your inbox every morning.
Rewards programs are all too common schemes that theoretically encourage and reward loyal customer behavior. In standard program structures, rewards members earn points based on their spending or number of transactions with a brand that can later be exchanged for products or discounts. Ideally, these reward structures will motivate customers to increase their basket size or shop more frequently, deepening their relationship with the brand.

But that's often not the case. While there are standout programs that offer an exception to the rule, Morning Consult analysis shows that most programs don't succeed at making shoppers more loyal — at least not by themselves.
Still, the incentives offered in these programs are effective at getting customers' attention: A plurality of consumers (37%) said earning and redeeming points are the most important features when deciding whether to join a program. Beyond the ability to incentivize shopper behavior, the benefit to the brand is that these programs — also called loyalty programs — give customers a reason to self-identify at each touch point with the brand, like brick-and-mortar cash wraps, in addition to logging in when they shop online. Rewards program participants also tend to be more comfortable sharing their data with brands to gain personalized recommendations (81% versus 63% of all U.S. adults). This more robust customer data can offer brands insights into the experiences and behaviors of their most loyal customers, which can then be applied across the business.
By themselves, rewards programs have limited impact on customer loyalty
In a recent analysis of six blinded brands, Morning Consult found that shoppers' enjoyment of the features and benefits of a rewards program doesn't have a strong impact on loyalty, as measured by consumers rating the brand as their favorite or first choice in a particular category. Of the brands included in this analysis, a rewards program was a top loyalty driver for only one. That brand's program is widely regarded among the best in class, demonstrating that a rewards program needs enormous investment to meaningfully impact loyalty by itself.
Rewards Programs Often Aren't Strong Loyalty Drivers
Ranked impact of rewards programs on brand loyalty metrics
Survey conducted May 23-27, 2023, among a representative sample of 4,406 U.S. adults. The drivers were determined using a dual-model regression-based method, which quantifies the importance of a series of predictor variables in predicting an outcome variable.
In most cases, rewards programs ranked lower as a loyalty driver among program members as compared with the general population. This does not mean the program is less effective for members — just that members value other attributes of the brand and their shopping experience more than the program. The rewards program is a tool to grow the customer's relationship with the brand, but it doesn't create loyalty in and of itself.
When rewards programs do impact loyalty, the outcomes tend to be more transactional than attitudinal owing to the transactional nature of points. Insights from customers engaged with a rewards program can contribute to ensuring an enjoyable shopping experience for all, and help brands understand when products are meeting expectations.
Still, there are other, less common elements of programs that can go beyond the standard transactional rewards. For example, free shipping and returns for rewards members are compelling perks to shoppers, and retailers introducing shipping and returns fees can reserve this benefit for their most valuable customers.
Great rewards programs go beyond points
Retail brands need to drive engagement in their rewards programs for them to work as intended. Many shoppers who say they are loyal to a brand are not members of its rewards program. For the brand with the most popular rewards program tested, 64% of its self-professed loyal customers were program members. For the other five, 23% to 44% of their loyal customers said they participate in each brand's rewards program, indicating missed opportunities to reach a potentially valuable audience.
Accruing points or some other version of a brand-specific currency is a table stakes component of rewards programs: Earning and redeeming points are the two most important factors to consumers when deciding to sign up for a retailer's rewards program.
Points and Freebies Rule Rewards Programs
Share of respondents expressing interest or disinterest in each rewards program feature or benefit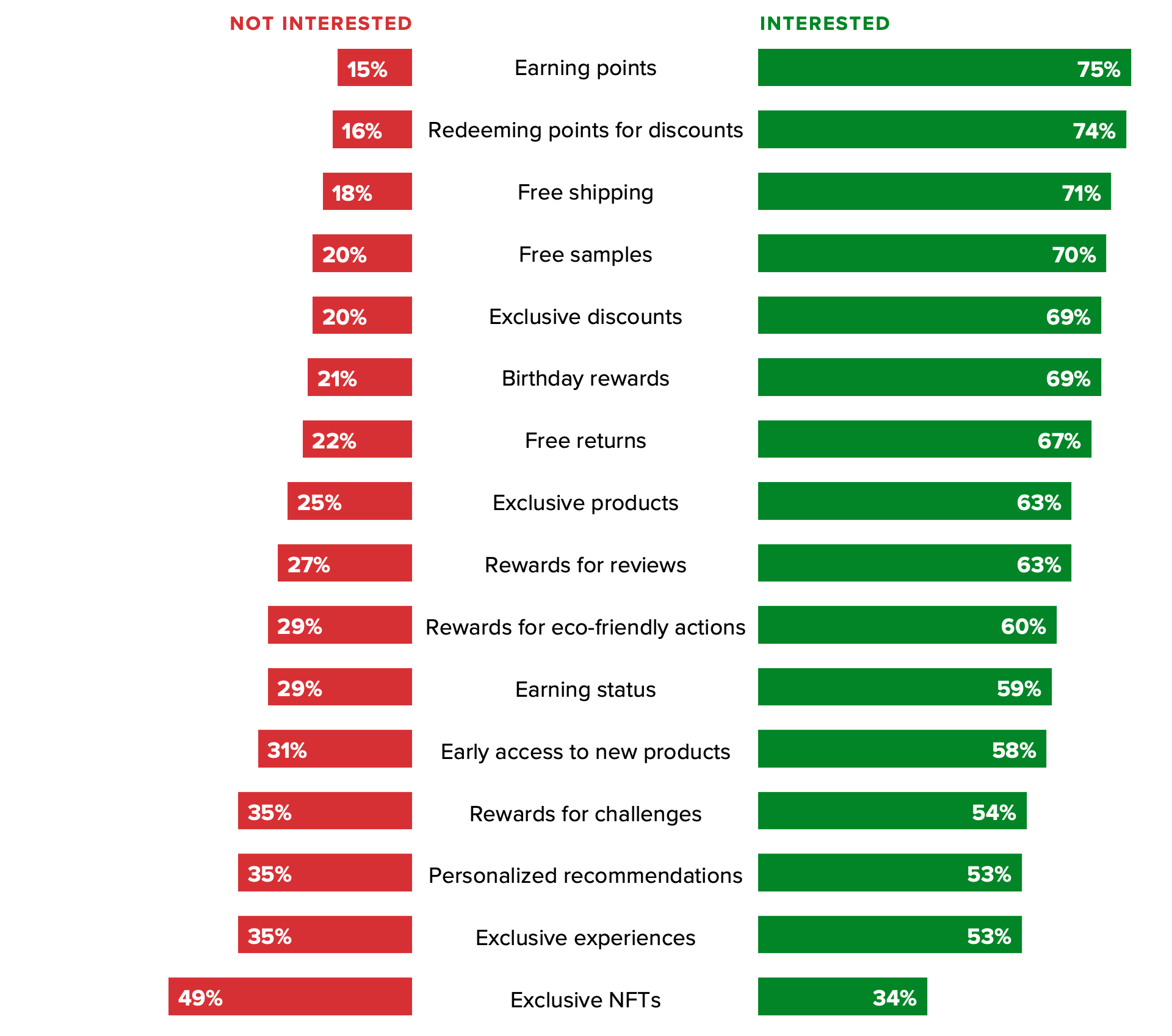 Survey conducted June 21-24, 2023, among a representative sample of 2,203 U.S. adults, with an unweighted margin of error of +/-2 percentage points. "Don't know/No opinion" responses are not shown.
For some retailers, offering rewards for other desirable customer behaviors — participating in eco-friendly programs such as recycling old clothing, for example, or leaving product reviews — can also expand the reach and value of the program. These benefits are most attractive to shoppers who are active in at least four retail rewards programs — an audience that tends to be younger (under age 34), college-educated and wealthier (earning at least $50,000 annually). Parents also show up at higher rates in this group, so retailers should consider including kid-friendly ways to engage in these experiential offerings.
Specific demographics at scale: Surveying thousands of consumers around the world every day powers our ability to examine and analyze perceptions and habits of more specific demographics at scale, like those featured here.
Why it matters: Leaders need a better understanding of their audiences when making key decisions. Our comprehensive approach to understanding audience profiles complements the "who" of demographics and the "what" of behavioral data with critical insights and analysis on the "why."
In 2022, Starbucks, a brand with a highly regarded rewards scheme, introduced NFTs for rewards members. Brands using NFTs in rewards programs can treat them as collectibles, as Clinique did, and shoppers can use them to access additional brand experiences. About one-third of U.S. adults (34%) said they're interested in earning exclusive NFTs as part of these structures; these individuals tend to be highly engaged in rewards programs across different industries, under age 44 and nonwhite.
Rewards program members are more open to sharing their data with brands
When shoppers sign up for a rewards program, they're typically handing over their email address at a minimum, and often filling out more robust profiles with category-relevant needs and interests. When managed well, this data can be valuable for brands and consumers alike, as it should lead to more consistently relevant marketing communications and recommendations tailored to customers' interests and purchase history. Shoppers have complex views of and expectations for data privacy, but heavy rewards program users are more generous with their data than most: They say they're more comfortable with brands using their data to provide recommendations, and more comfortable with brands selling that data to other brands.
Rewards Members Are More Comfortable With Brands Using Their Data
Shares who said they are "very" or "somewhat" comfortable with the following:
Survey conducted June 21-24, 2023, among a representative sample of 2,203 U.S. adults, with an unweighted margin of error of +/-2 percentage points.
Consumers' comfort with companies tracking their online activity to provide tailored ads and recommendations has increased over the last year. Rewards programs are a means of compensating shoppers for that data, and should prove to members that sharing their data is worthwhile, both for points and transactional benefits as well as for an improved overall experience.
Claire Tassin is the lead retail & e-commerce analyst on the Industry Intelligence team, where she conducts research, authors analyst notes and advises leaders in the retail & e-commerce industry on how to apply insights to make better business decisions. Before joining Morning Consult, Claire was an analyst at Gartner, where she conducted research on shifting consumer behaviors and expectations, as well as trends and technology relevant to marketing leaders in the retail sector. She graduated from Washington University in St. Louis with a bachelor's degree in psychology. For speaking opportunities and booking requests, please email [email protected].
We want to hear from you. Reach out to this author or your Morning Consult team with any questions or comments.
Contact Us