What Our Return to Normal Looks Like After Two Years of the Pandemic
On the second anniversary of the COVID-19 pandemic, head of Industry Intelligence Joanna Piacenza unpacks consumer comfort insights from Morning Consult's 109 weeks of survey research
"We are never returning to normal."
You've likely read that sentence before. It's possible you've thought it on a particularly bleak afternoon, or you heard a friend say it from behind a computer screen — or from behind a mask.
But when you look at the data, there are signs of hope that at least some Americans can return to some semblance of normal. 
We've been fielding our "Return to Normal" surveys for 109 weeks. The first survey gauging consumer attitudes on the coronavirus yielded results on Jan. 26, 2020.
Analyzing the more than 239,000 U.S. responses we collected tells us what consumer attitudes and habits didn't change during the COVID-19 pandemic, which ones boomeranged and which ones may be forever altered — essential insights for business leaders considering if and how they should be changing their consumer strategy as various ramifications of the pandemic continue indefinitely.
Consumer comfort levels that haven't quite returned to normal
Morning Consult's Return to Normal project has primarily served to highlight consumer comfort levels throughout the pandemic by charting the share of Americans who feel safe doing certain activities. We've seen healthy majorities report high comfort levels for many activities, but we're nowhere near pre-pandemic normal.
When looking at this consumer survey research, it's important to understand the part that motivated reasoning plays in consumer comfort. While respondents are considering whether they'd feel comfortable re-engaging in certain leisure activities, there's also an element of pent-up demand — activities that consumers miss doing or want to do often present differently in public opinion research.
What's more, high consumer discomfort isn't necessarily a death sentence for industries connected to these activities: As you'll see with moviegoers, many report discomfort but still show up to the theater.
Consumers were most eager for restaurants to reopen: Of all the leisure activities we tracked, the share of adults comfortable dining in was the quickest to eclipse the share who said they were uncomfortable doing so. This sea change occurred as vaccines began rolling out stateside.  
We saw similar rebounds in those expressing comfort going to a shopping mall and taking a vacation. These are activities that consumers missed (most acutely with vacations), are housed in industries that could create environments that made consumers feel safe (dining) and that consumers are willing to look the other way mentally to engage with (shopping).
Still, roughly 3 in 10 U.S. adults say they're uncomfortable doing any of these three activities. These patrons are more likely to be Black adults, older consumers or, notably, vaccinated individuals — groups that tend to be either higher risk or more cautious in general.
More than the activities mentioned above, comfort levels in returning to a movie theater have closely traced variant surges — comfort dropped as confirmed cases rose. An abundance of new content on streaming services, including several blockbuster "day and date" releases, kept consumers happy at home. Comfort levels are now on the rise again, validating predictions that 2022 will be a strong box office year.
Our survey research for amusement parks and going to a social gathering followed similar patterns, although comfort levels for those activities haven't reached majority status. Notably, parents report slightly higher comfort levels with going to an amusement park compared to the public overall. 
There is a whiff of motivated reasoning here, given that it's parents who are expressing more comfort than the general public with going to amusement parks — although part of it could be more familiarity with what to expect in these spaces.
Even as more of the country opens up, gyms are likely to face a sluggish recovery, at least in terms of gaining new memberships.
Elite gyms that rely on wealthier consumers will likely have an easier time recruiting new customers: Those in households earning $100,000 or more annually began expressing higher levels of comfort than the public overall around the start of 2021. That's due to the group's elevated access to preventative and protective measures, as well as a larger financial safety net if they get sick.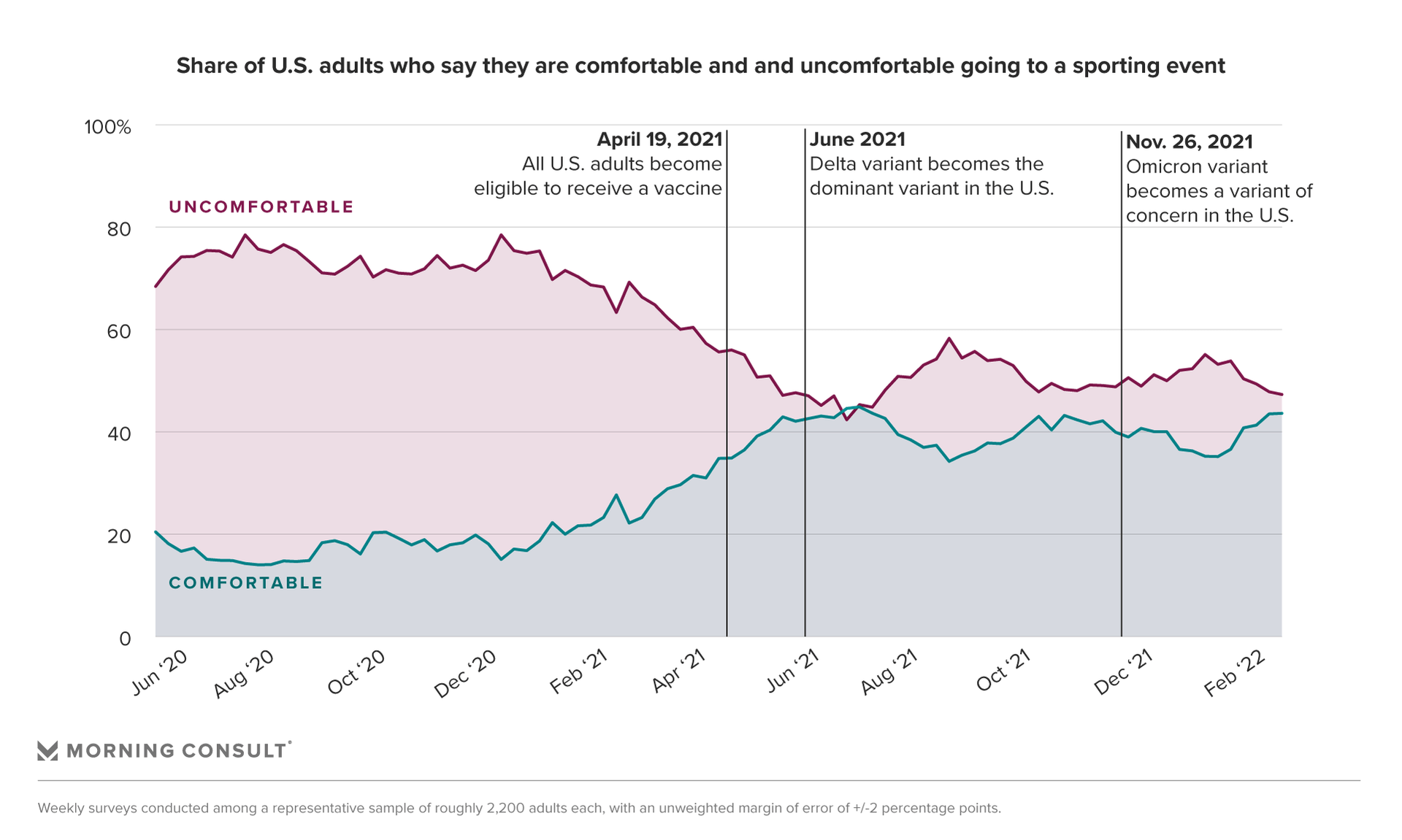 The mental image of crowded stadiums is likely preventing a full recovery for consumers' comfort levels in attending sporting events. Asking sports fans about their safety levels for outdoor (65 percent), limited-capacity (62 percent), indoor (50 percent) and full-capacity events (45 percent) yields important differences that impact U.S. sports leagues' various arena settings. Complete comfort with indoor and full-capacity events is likely never going to return to pre-pandemic levels among key groups, so further investment in elevated safety policies would benefit the sector.
Sports-loving millennials, who throughout our tracking have reported higher levels of comfort with various activities, have nearly consistently reported more openness to attending games. The same rings true for self-described sports fans. Those who participated in pre-pandemic events will be easier to lure back, but earning new patronage will be difficult.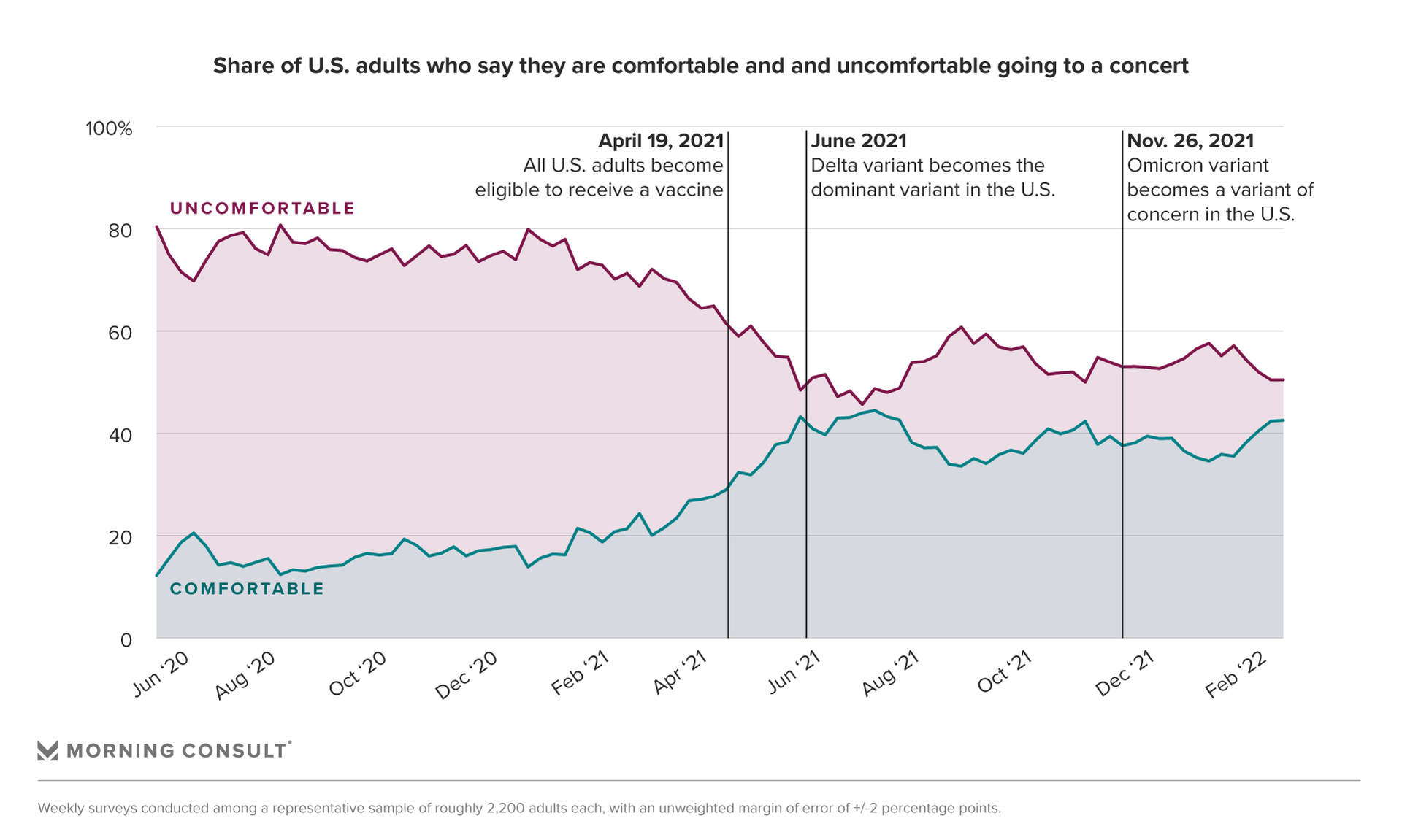 The concert industry has lagged behind nearly every sector we've tracked over the past two years. As warmer months near and outdoor arenas open up, we'll likely see these figures shift, but the industry needs a larger pool of comfortable attendees to stay afloat. 
And while we have often seen that women are largely less comfortable than men when it comes to re-engaging in leisure activities, this gender gap is more pronounced with concerts. That means entertainers who rely more on a female-heavy fan base will have a trickier recovery in the next few years.
How self-reporting spending has shifted
Self-reported consumer spending dropped at the start of the COVID-19 pandemic, as closures, social distancing and fear impacted our normal shopping patterns.
In April 2020, nearly half said they were spending less than they typically do, and just over 1 in 4 said they were spending the same amount. As spaces reopened, vaccines became widely available and government stimulus checks started rolling out, spending normalized and for many grew — though that's also due to the price inflation that's driving up the cost of living.
The pandemic had a tendency to accelerate trends that already existed, and that's especially true for online shopping. While the share of U.S. adults who say they're spending more online since the pandemic started has stayed relatively steady throughout the last two years, the share who say they're spending less online has been cut in half, from 20 percent to 8 percent.
Vaccine hesitancy and masking divides remain largely unchanged
Some metrics haven't budged. The country's approval of elected officials' and organizations' handling of the pandemic, for example, has stayed under water. The gender divide in those saying they feel "tired" amid the pandemic has remained strong, with women consistently holding a double-digit lead over men.
The number of U.S. adults who say they won't get the COVID-19 vaccine has also remained about the same.
Twenty-two percent said in January 2021 they don't plan on getting the vaccine and, as of Feb. 20, 2022, the date of our most recent survey included in this analysis, 18 percent said they aren't inoculated and don't have plans to. The same can be said for the share who said they'd get a booster: Consistently, roughly 1 in 5 say they don't plan on getting one even if it was advised, a figure that grows to 2 in 5 among Republicans. 
Despite this lower vaccination rate — or perhaps because of it — Republicans report higher levels of comfort in returning to the activities that defined their everyday life. Many never stopped. 
The novel coronavirus pandemic normalized what was already quite common in many other parts of the world — wearing a facial covering to prevent the spread of illness. Self-reported mask-wearing habits roughly follow the Centers for Disease Control and Prevention's guidance, and we'll likely see the share of all adults who always don a mask drop after the agency significantly relaxed mask-wearing guidelines at the end of February.
But there will be some who will opt to continue wearing a mask, divides that are most clearly seen along party lines.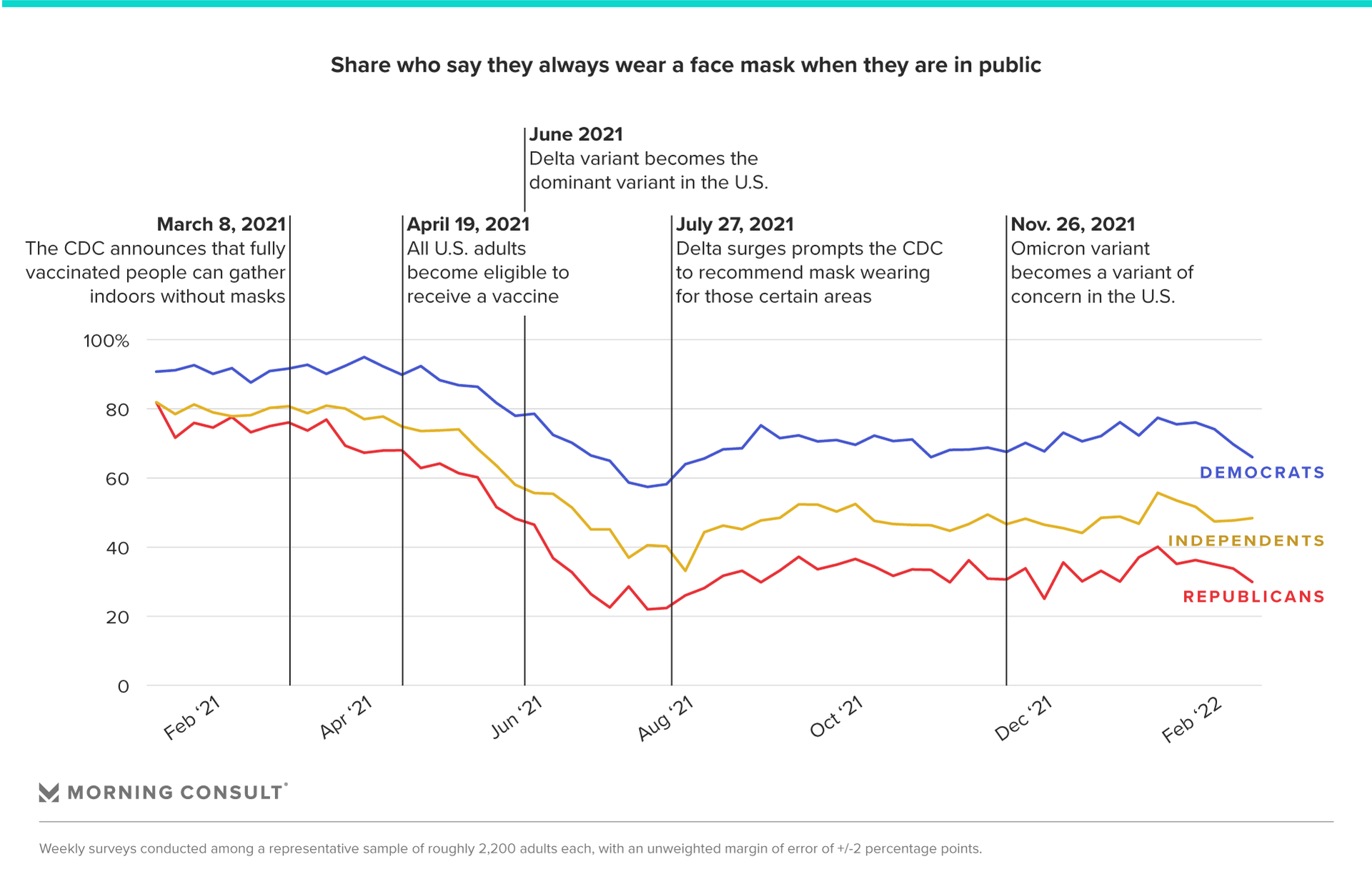 While masks are a lens into the increased polarization of the United States, it's notable that the trend lines move in union: Masking's ardent opponents, who are predominantly Republican, are not immune to new guidelines or case spikes when it comes to mask wearing. 
These two opposing groups are also not equal: 67 percent of Democrats say they always wear a mask, while 24 percent of Republicans say they never do.
What it means
Even for activities that benefited from a boomerang of consumer comfort, such as on-premises dining or going shopping, at least 3 in 10 individuals (roughly) are still expressing discomfort in such actions. To bring in new consumers, who largely fall into this "uncomfortable" bucket of respondents, all brands can do is continue to enact and promote the pandemic safety policies that have defined the last two years, including permitting mask wearing among its customers even after mandates expire.
So much of this depends on new variants and advancements in public safety, but this may also be our new normal: The physical and psychological ramifications of the past two years have created a small group of people who will never be fully comfortable returning to the everyday activities that previously defined our lives.
Joanna Piacenza leads Industry Analysis at Morning Consult. Prior to joining Morning Consult, she was an editor at the Public Religion Research Institute, conducting research at the intersection of religion, culture and public policy. Joanna graduated from the University of Wisconsin-Madison with a bachelor's degree in journalism and mass communications and holds a master's degree in religious studies from the University of Colorado Boulder. For speaking opportunities and booking requests, please email [email protected].
Sam Elbouez is a senior data visualization designer at Morning Consult.
We want to hear from you. Reach out to this author or your Morning Consult team with any questions or comments.
Contact Us