Gardner 'Flatly Outnumbered' by Independents as He Seeks Re-Election in Colorado Senate Race
Hickenlooper holds 29-point lead over GOP incumbent with unaffiliated voters, who make up more than 40% of the state's electorate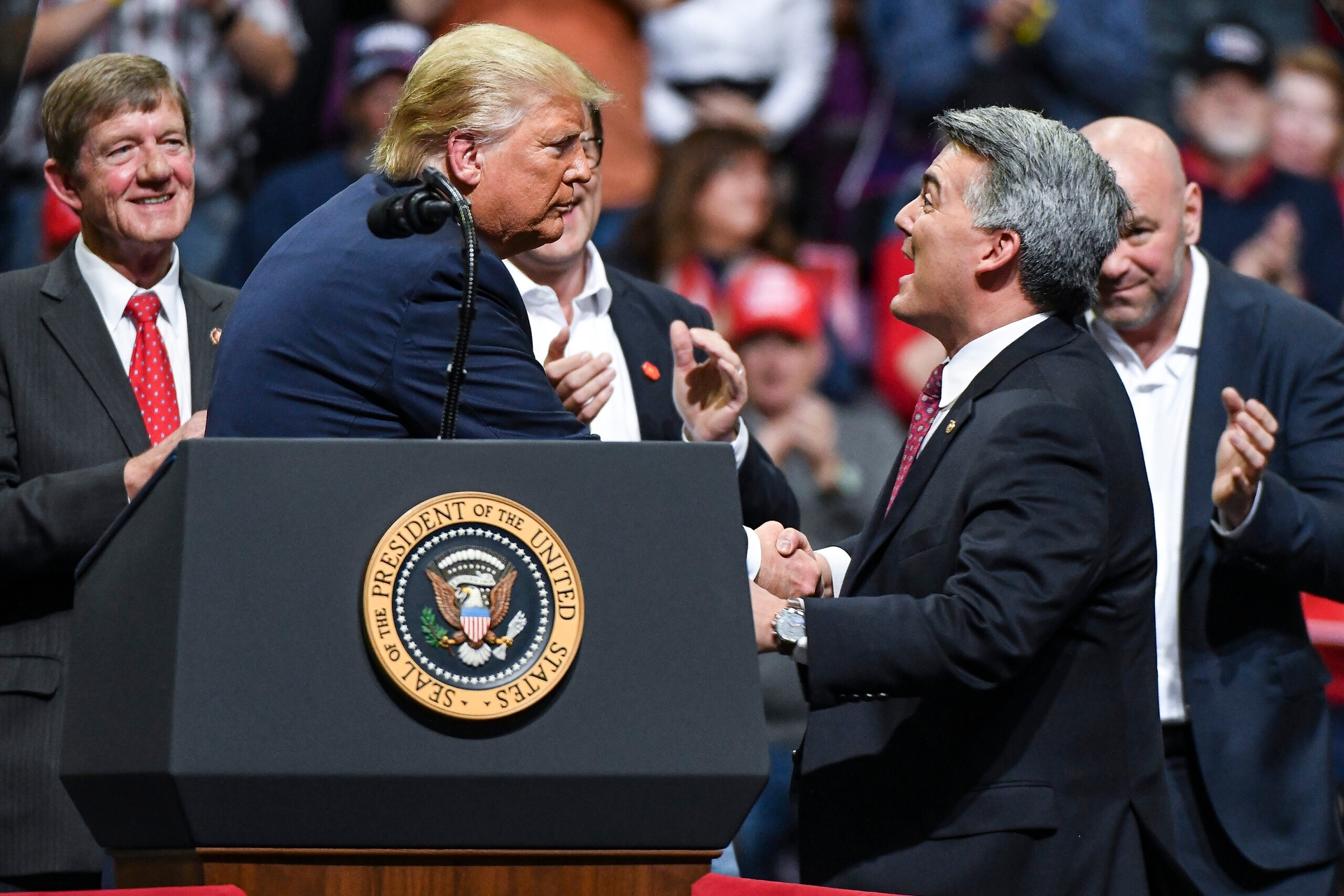 This is the fifth in our "Majority Makers" series, a race-by-race look at the contests that will decide control of the Senate in 2021. See our previous dives on Iowa, Michigan, Kansas and North Carolina.
Colorado Sen. Cory Gardner has a math problem. 
The most vulnerable Republican up for re-election this fall boasts stronger support among the party's base than most of the other GOP Senate contenders this year, but he is being lapped by Democratic rival and former Gov. John Hickenlooper among independents, who make up the lion's share of the state's active voter rolls. 
"The unaffiliated voters are all that matter, especially in a hyperpolarized environment where you can count on your base to show up," said Ryan Winger, director of data analysis and research projects at Magellan Strategies, a Republican polling firm. 
August data compiled by Colorado's secretary of state shows roughly 42 percent of the state's electorate does not identify with either of the two major political parties. Morning Consult's daily tracking among likely voters from Aug. 21-30 shows Hickenlooper leading Gardner by 29 percentage points, 54 percent to 25 percent, among independents -- roughly in line with his average standing with the sizable group since the tracking began more than two months ago. 
Both Gardner and Hickenlooper are on solid footing with their respective parties: Gardner has 88 percent support among Republicans, who make up just over 27 percent of the electorate, and 91 percent of Democrats, who make up about 30 percent of the electorate, are backing Hickenlooper.
Overall, the polling of 638 likely voters found Gardner trailing Hickenlooper in the Centennial State by 9 points, 39 percent to 48 percent, which tracks with his average deficit over the past month and mirrors the top-of-the-ticket contest between President Donald Trump and Democratic presidential nominee Joe Biden. 
Laura Chapin, a Colorado-based Democratic strategist, said that despite Gardner's strength among Republicans, the composition of the state's electorate makes him "flatly outnumbered."
"Cory Gardner sealed his fate when he endorsed Trump, and there's not going to be a whole lot else beyond that," she said. "His only hope is holding onto his base and picking up unaffiliated voters magically. It'd take a lot of split tickets, and that ain't happening." 
Both campaigns both declined requests to interview the candidates.
Gardner, who was one of many elected Republicans to call for Trump to drop his presidential bid in October 2016 following the Access Hollywood tape release, has since aligned himself with the president, endorsing his re-election bid in January and appearing with him at a February campaign rally in Colorado Springs.
But his message on television for the general election has been largely devoid of the president and partisan politics, a sign of the president's toxicity with the state's overall electorate. One recent advertisement touts his support for a coronavirus relief measure that provided forgivable loans to small businesses, while other spots have portrayed him as a fighter for the environment and a savior of the outdoors, noting his support of legislation to shore up funding for national parks.
Gardner has also hit Hickenlooper for comments he made during his brief bid for the Democratic presidential nomination when he scoffed at running for Senate. In one ad, Gardner says to the camera, "To do this job, you probably need to want this job."
His only hope is holding onto his base and picking up unaffiliated voters magically.
Laura Chapin, Colorado-based Democratic strategist
Hickenlooper's presidential ambitions did little to ding Colorado voters' largely positive perceptions of their former governor, who defeated Andrew Romanoff, his liberal challenger, by 18 points in the state's June primary.
Romanoff lobbed a series of escalating attacks in the closing stages of the primary, highlighting an ethics controversy in which Hickenlooper was found to have twice violated the state's ban on accepting gifts as governor. 
The subject has made its way into GOP commercials, including one National Republican Senatorial Committee spot that dubbed him "Slick Shady John Hickenlooper." The group, working to erode Hickenlooper's moderate and largely positive reputation with voters in the middle, has $1 million in airtime booked between now and Election Day that will join $6 million from the Republican-aligned Senate Leadership Fund to boost Gardner's bid.
The Hickenlooper campaign, which has outraised Gardner but still trails him in cash in the bank, has rebutted the attacks on his character, releasing an ad in late August featuring a testimonial about his treatment of an employee.
Like many other Democratic candidates for Senate this cycle, Hickenlooper has largely focused on health care -- specifically, Gardner's votes to repeal the Affordable Care Act and its protections for pre-existing conditions. A Democratic-aligned Senate Majority PAC ad currently running in the state refutes Gardner's bipartisan bona fides: "They say actions speak louder than words, and when it comes to Cory Gardner, they're right." (In an apparent effort to mitigate the line of attacks, Gardner filed a bill before the Senate left town for its August recess entitled the "Pre-Existing Conditions Protection Act of 2020.")
Despite all of this, several strategists interviewed for this story said the messaging on television and through the press may not matter that much if the political environment doesn't change. 
Two Republican strategists in Washington, speaking privately to discuss strategy, said the first-term senator's viability counts on Trump to tighten his own standing in the state -- something that Democratic and GOP operatives said would require a significant shift in the country's political landscape over the next two months, though in the Trump era, neither side is ruling that out. 
If that doesn't happen, former Rep. Mike Coffman (R-Colo.) said if voters expect a Trump defeat, that could work to Gardner's advantage with voters in Colorado's suburbs who may be averse to one-party dominance in Washington. He said that dynamic, which helped Democratic challengers oust Republican lawmakers like himself during the 2018 midterm elections, could lend more credence to Gardner's "incredible balancing act" of maintaining support from the Republican base while remaining viable to independent voters.
"I won in 2016 with Trump on the ballot, and the reason I did was because there was a general belief that Trump couldn't win and that they needed a balance with a Republican-controlled Congress versus Democrat Hillary Clinton in the White House," said Coffman, now the mayor of Aurora. "If people think Trump's not going to win nationally, I think that could benefit Cory."
Eli Yokley is Morning Consult's U.S. politics analyst. Prior to his current role, Eli was Morning Consult's senior reporter covering U.S. politics. Eli joined Morning Consult in 2016 from Roll Call, where he reported on House and Senate campaigns after five years of covering state-level politics in the Show Me State while studying at the University of Missouri in Columbia, including contributions to The New York Times, Politico and The Daily Beast. Follow him on Twitter @eyokley. Interested in connecting with Eli to discuss his analysis or for a media engagement or speaking opportunity? Email [email protected].
We want to hear from you. Reach out to this author or your Morning Consult team with any questions or comments.
Contact Us