Plurality of Voters Think There's a Crisis at the Border
As shutdown continues, more voters blame Trump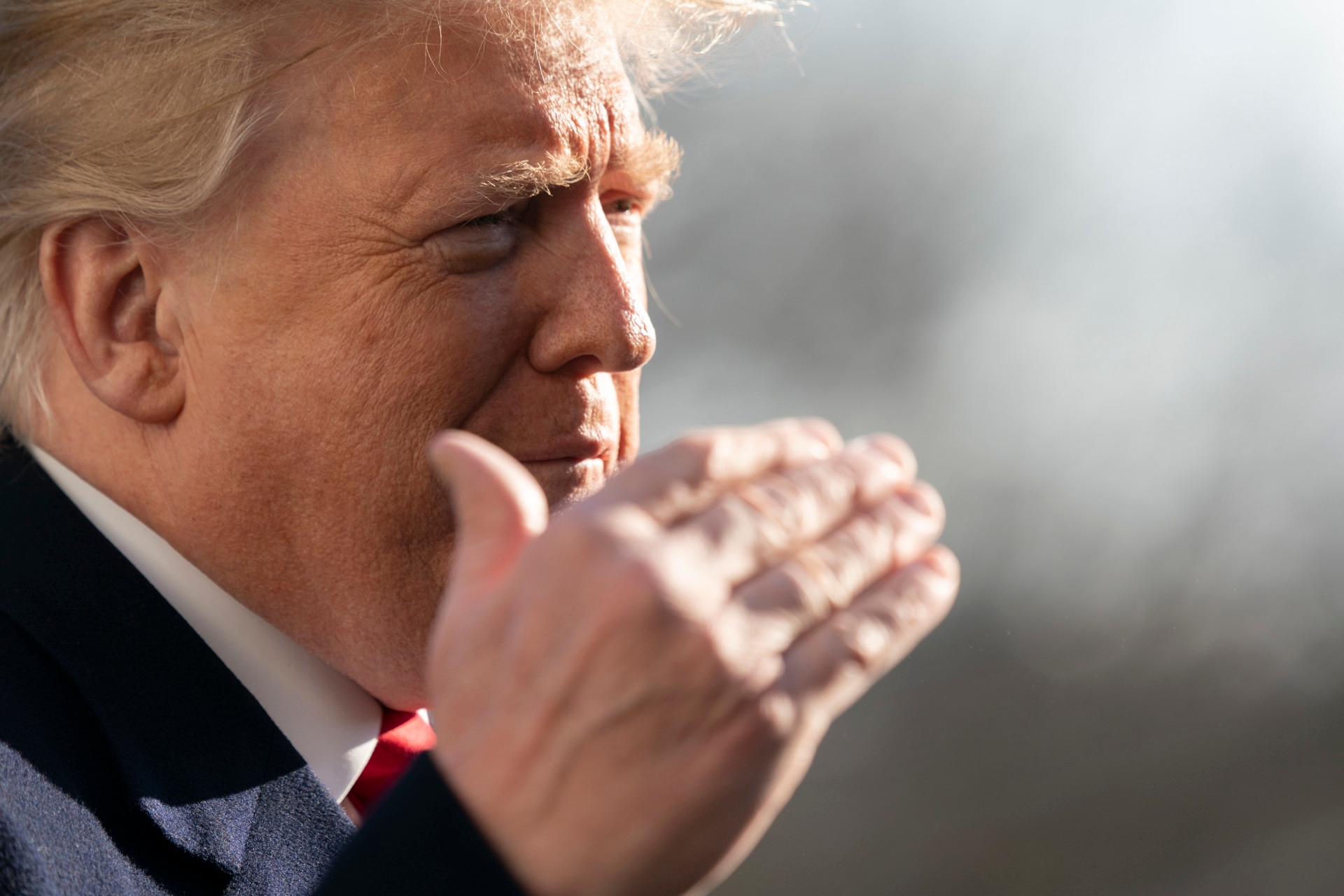 Key Takeaways
72% Republicans said there's a crisis of illegal immigration, more than three times the share of Democrats who agreed.

44% of voters support building a wall along the U.S.-Mexico border, while 47% oppose the idea.

37% of voters said the country was headed in the right direction -- the lowest figure since March.
As President Donald Trump mulls declaring a national emergency over border security, a new Morning Consult/Politico survey shows a lion's share of voters agree with him that the United States is facing a crisis over illegal immigration.
According to the poll, conducted Jan. 4-6 among 1,989 registered voters, a 42 percent plurality think there is an illegal immigration crisis at the U.S.-Mexico border, which Trump has argued as he's tried to leverage a partial government shutdown to secure congressional funding for his proposed southern border wall. Another 37 percent of voters said there's a problem but not a crisis, and 12 percent said there's neither a problem nor a crisis.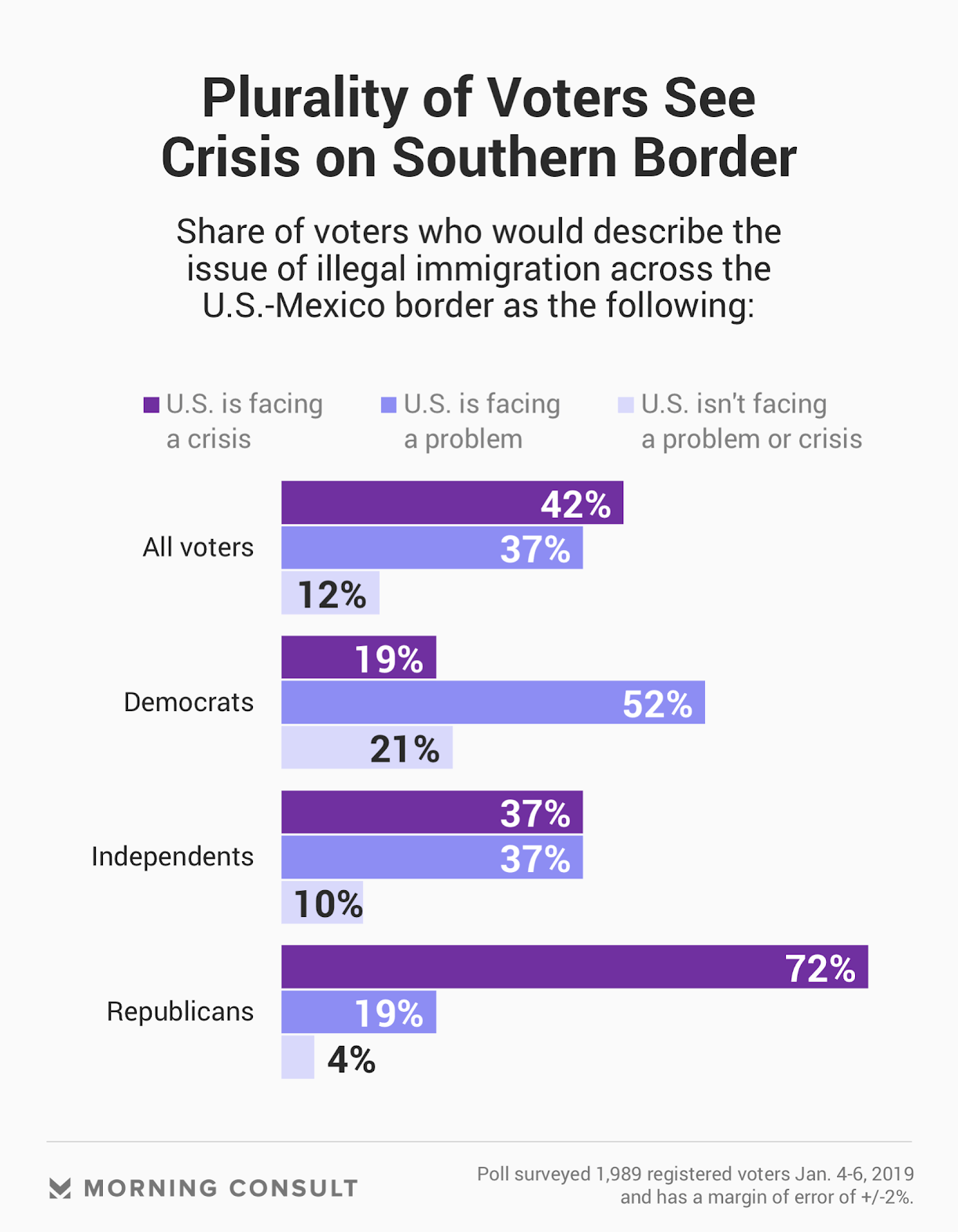 Trump -- who highlighted fears about an asylum-seeking caravan of migrants heading to the southern border as he campaigned for Republican Senate candidates in 2018 -- on Monday referred to a "Humanitarian and National Security crisis on our Southern Border," and Vice President Mike Pence told reporters the same day that the president was considering declaring a national emergency over the issue.
While there is some agreement about humanitarian concerns for traveling and detained migrants, particularly the children who have been separated from their families, there's dispute about whether there is a security crisis at the border. While it's true that there were more arrests at the border in fiscal year 2018 (396,579) than in fiscal year 2017 (303,916), according to U.S. Customs and Border Protection data, the 2018 figure is less than the average over the previous decade.
Amid the heated debate in Washington, the issue of whether or not there's an immigration crisis has polarized the voting public.
Seventy-two percent of Republicans said there's a crisis of illegal immigration, more than three times the share of Democrats (19 percent) who agreed. But Democrats are not writing off the issue entirely: More than half (52 percent) said there is a problem with illegal immigration across the U.S.-Mexico border.
Overall, voters were split when asked whether they support or oppose construction of a border wall along the southern U.S. border. Forty-seven percent -- including 80 percent of Democrats -- said they oppose building a wall, compared with 44 percent -- including 83 percent of Republicans -- who support it.
While Trump appears to be holding his own in the court of opinion when it comes to the situation at the border, voters continue to be most likely to hold him responsible for the ongoing partial government shutdown, which has persisted since Dec. 22 and has penetrated the minds of voters.
Seventy-nine percent of voters said they'd heard something or a lot about the shutdown, more than the shares who said the same of recent swings in the stock market, Trump's military plans in Afghanistan and Syria or a scathing op-ed by freshman Sen. Mitt Romney (R-Utah).
As the shutdown has continued, the share of voters who say Trump is mostly to blame (47 percent) has increased, up 4 percentage points since Morning Consult asked in a Dec. 21-23 poll, while the share who said Democrats were to blame (33 percent) stayed within the polls' 2-point margins of error.    
The gridlock in Washington also may have dimmed voters' optimism about the country writ large. According to Morning Consult tracking, just 37 percent of voters said the country is going in the right direction -- the lowest share since late March.
Eli Yokley is Morning Consult's U.S. politics analyst. Prior to his current role, Eli was Morning Consult's senior reporter covering U.S. politics. Eli joined Morning Consult in 2016 from Roll Call, where he reported on House and Senate campaigns after five years of covering state-level politics in the Show Me State while studying at the University of Missouri in Columbia, including contributions to The New York Times, Politico and The Daily Beast. Follow him on Twitter @eyokley. Interested in connecting with Eli to discuss his analysis or for a media engagement or speaking opportunity? Email [email protected].
We want to hear from you. Reach out to this author or your Morning Consult team with any questions or comments.
Contact Us