The 2019 Stats That Stood Out
Morning Consult's reporters list the public opinion findings that most caught their eye over the past year
Morning Consult is in the field every day, gauging opinions from roughly 20,000 people across the world on topics ranging from politics to business, tech and sports and everything in between. Throughout 2019, our editorial team pored over thousands of numbers. Here are a few that really caught our eye, one per Morning Consult newsletter.
BRANDS: Iced coffee is more feminine than whiskey, and vaping is more masculine than yoga. Respondents were asked to rank a list of miscellaneous products and activities, including hand sanitizer and posting pictures on social media, as "masculine" (1 on a scale of 10) or "feminine" (10). Items such as tote bags (7.0) and candles (6.7) were more feminine, while leather jackets (4.2) and scotch (4.0) were perceived as more masculine. The city of Tokyo, hard seltzer, YouTube and scooters were all given a neutral 5.0. 
FINANCE: Millennials' and boomers' discretionary spending actually looks pretty similar. For all the catalogued differences between the two generations, millennials and baby boomers are roughly as likely to spend an extra $1,000 the same way, and most are responsible about it. A majority would pay bills (18 percent of millennials vs. 17 percent of boomers), pay down debt (23 percent of millennials vs. 25 percent of boomers) or save it (23 percent of millennials vs. 25 percent of boomers).
SPORTS: About one-third of NBA fans are watching less. The marked decline in national NBA viewership on ESPN and TNT has been among the dominant sports business storylines of the past several months.
Indeed, 35 percent of self-described NBA fans said they're watching fewer games this season compared to other recent seasons.
But there are more warning signs for the professional basketball organization: NBA fans who said they are just as interested in this season as they have been in recent seasons were nine times more likely to say they are watching fewer games this season than to say they are watching more.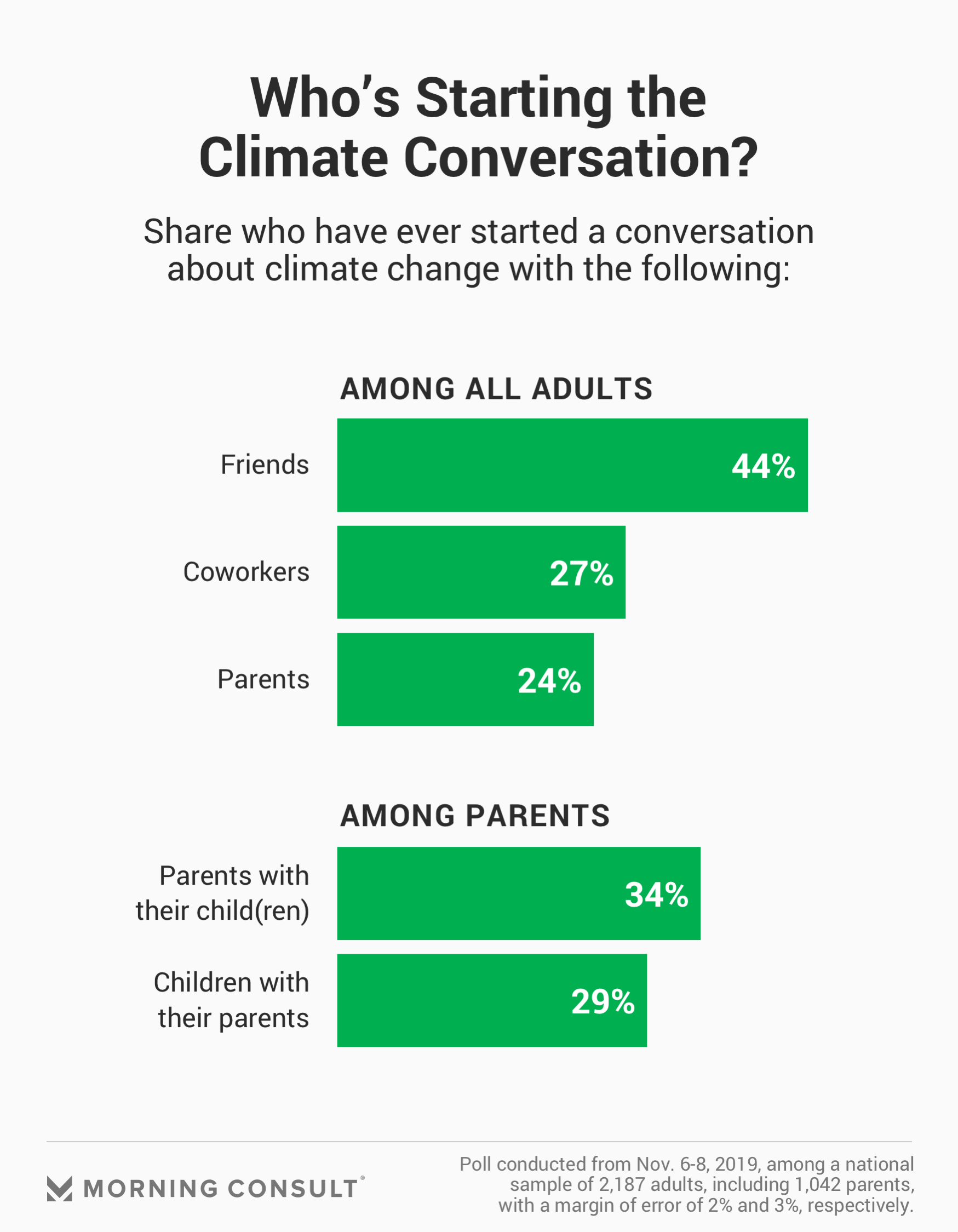 Overall, 17 percent said that compared to a year ago, they are much more likely to start a conversation about climate change with friends or family, along with 25 percent who are somewhat more likely. 
And while the global climate marches this year brought attention to the role young people can play in regard to the issue, parents were more likely to bring it up with their children than vice versa: 34 percent vs. 29 percent.
WASHINGTON: The issues that separate Trump Republicans from Reagan Republicans. The Republican Party can be split into two groups: Trump Republicans, or Republican voters who say President Donald Trump is their favorite Republican, and Reagan Republicans, who say former President Ronald Reagan was their favorite.
Trump Republicans are 31 percentage points more likely than Reagan Republicans to say it's "very important" for the GOP to re-elect Trump, 30 points more likely to say the same of supporting the construction of a U.S.-Mexico border wall and 24 points more likely to say the same of opposing protesters kneeling during the national anthem.
TECH: Nearly three-quarters say Trump tweets "too much." Trump's tweeting habits did not let up in 2019, and more voters agreed that the commander in chief was on the social media platform too much. 
Seventy-two percent of registered voters believe Trump uses Twitter "too much," and 50 percent of voters, including 29 percent of Republican voters, said the president's use of Twitter hurts his re-election efforts. 
More Democrats say Trump is on Twitter "too much" than when they were asked in December 2016. While that share has also risen among Republicans and independents, their attitudes have varied over time.
HEALTH: Nearly 2 in 5 say life starts at conception. At the heart of many of the stricter state abortion laws is the question of when life begins. Thirty-eight percent of U.S. adults, including 61 percent of Republican women and 29 percent of Democratic women, said life begins at conception.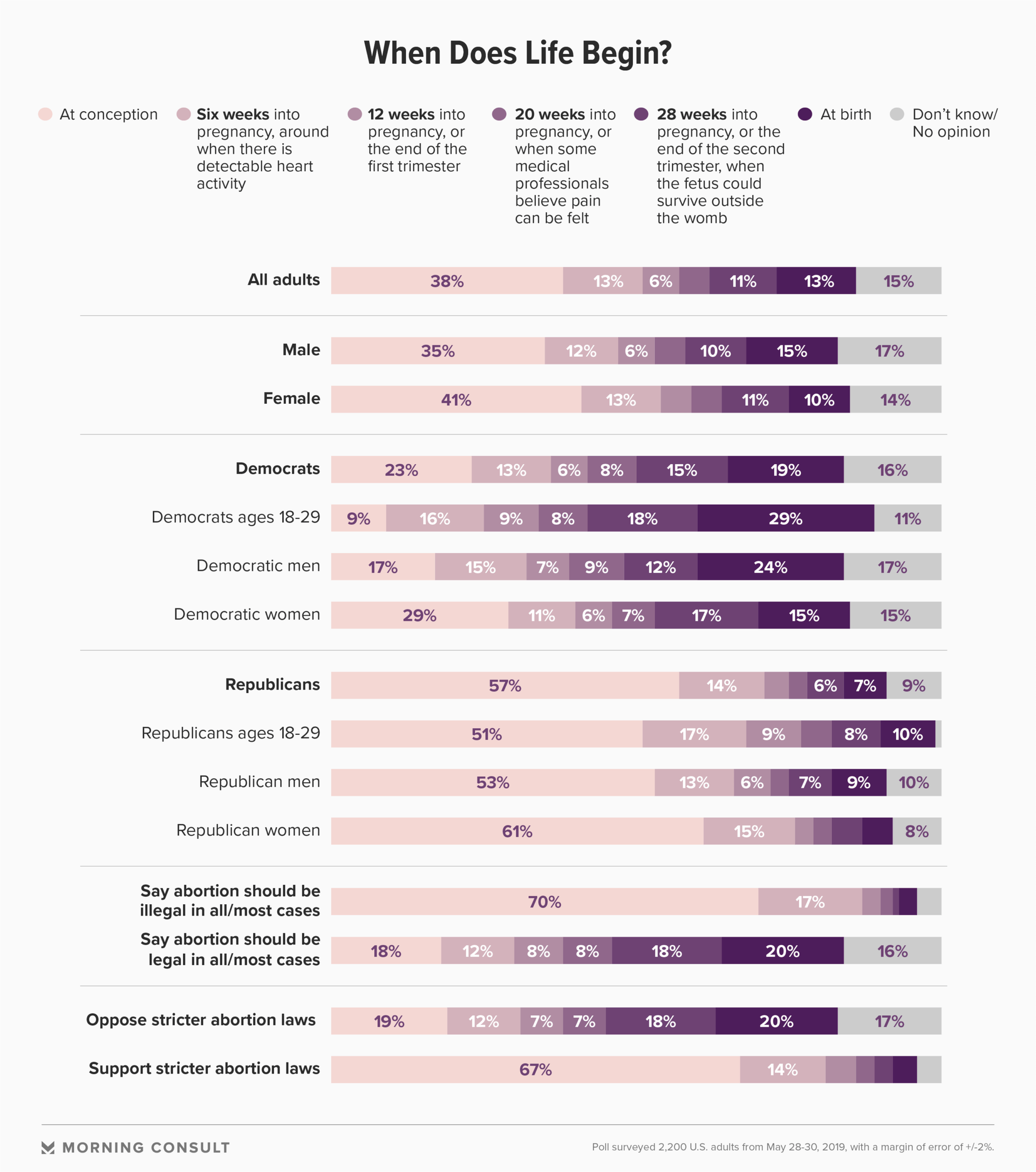 We want to hear from you. Reach out to this author or your Morning Consult team with any questions or comments.
Contact Us