This Year's Holiday Gift Spending Plans Mirror 2022's, Though Shoppers Hope to Save
Retail & e-commerce analyst Claire Tassin examines shoppers' spending and gifting plans for the upcoming holiday season
Key Takeaways
Nearly one-third (31%) of shoppers anticipate spending less on their overall holiday expenses this year, while 20% think they'll spend more. 

Gifts remain consumers' top holiday priority, and this year's shopping plans look similar to last year's, meaning 2022 should offer retailers good baseline guidance for this year's activity. 

Plans to participate in major promotional events like Black Friday are also similar to 2022, so to be successful in pulling back their spending, shoppers will have to buy fewer or less expensive items this year.
Sign up to get the latest global brand, media and marketing news and analysis delivered to your inbox every morning.
Retailers and consumers are bracing for the 2023 holiday shopping season amid an enormous amount of uncertainty. Younger consumers and high earners have been bolstering a lot of splurgy spending this summer and led the charge for early holiday shopping, but this "you only live once" spending attitude seems unsustainable with student loan payments resuming and high-interest debt ticking upward. 
An August spending pullback amid higher price sensitivity rang a warning bell for waning consumer spending for the rest of 2023. Retailers will keep a close eye on the results from this week's Amazon Prime Big Deal Days and myriad other sales for indicators of what to expect for the rest of the year. Based on what we saw in July, these sales will likely be more effective in driving splurging and self-gifting among those who are already primed to shop, rather than those trying to find budget-friendly options to check off their holiday lists. 
Holiday shoppers plan to spend less this year than they did last year
A greater share of U.S. adults said they plan to spend less (31%) rather than more (20%) on the holidays this year. In 2023, just 25% of holiday shoppers said they plan to spend more than $1,000 on their total holiday expenses, down from 32% in 2022. But those plans may be aspirational at best, as sticky inflation means that prices in most categories will be higher than they were this time last year.
Specific demographics at scale: Surveying thousands of consumers around the world every day powers our ability to examine and analyze perceptions and habits of more specific demographics at scale, like those featured here.
Why it matters: Leaders need a better understanding of their audiences when making key decisions. Our comprehensive approach to understanding audience profiles complements the "who" of demographics and the "what" of behavioral data with critical insights and analysis on the "why."
Holiday Shoppers Plan to Spend Less This Year Than They Did Last Year
Share of respondents who anticipate spending more or less than they did last year in each category:
Survey conducted Sept. 21-24, 2023, among a representative sample of at least 2,215 U.S. adults, with an unweighted margin of error of +/-2 percentage points. "I anticipate spending about the same amount" responses not shown.
Financially anxious adults are more likely than others to plan to spend less this season. Only 22% of financially anxious adults expect to spend $1,000 or more this holiday season, compared with 32% who said the same last year.
In order to actually spend less, people will have to deprioritize some spending categories or make those gift lists shorter this year. This year's holiday priority lists showed higher prioritization of apparel, decor, travel and alcohol compared with 2022, and none of the priorities tested showed a meaningful decline from last year. 
Planned gift spending for 2023 is on par with last year
Gift cards top this year's list of the most popular holiday presents once again, though last year's spike in the share of holiday celebrants planning to give gift cards has normalized. U.S. adults plan to spend about the same amount on gifts this year as they did last year, though to make that work with ongoing inflation, they'll have to buy fewer or less expensive gifts. 
Gift Cards Dominate Holiday Celebrants' Gifting Plans
Share of respondents who plan to buy or gift the following items this year, and how much they plan to spend in each category: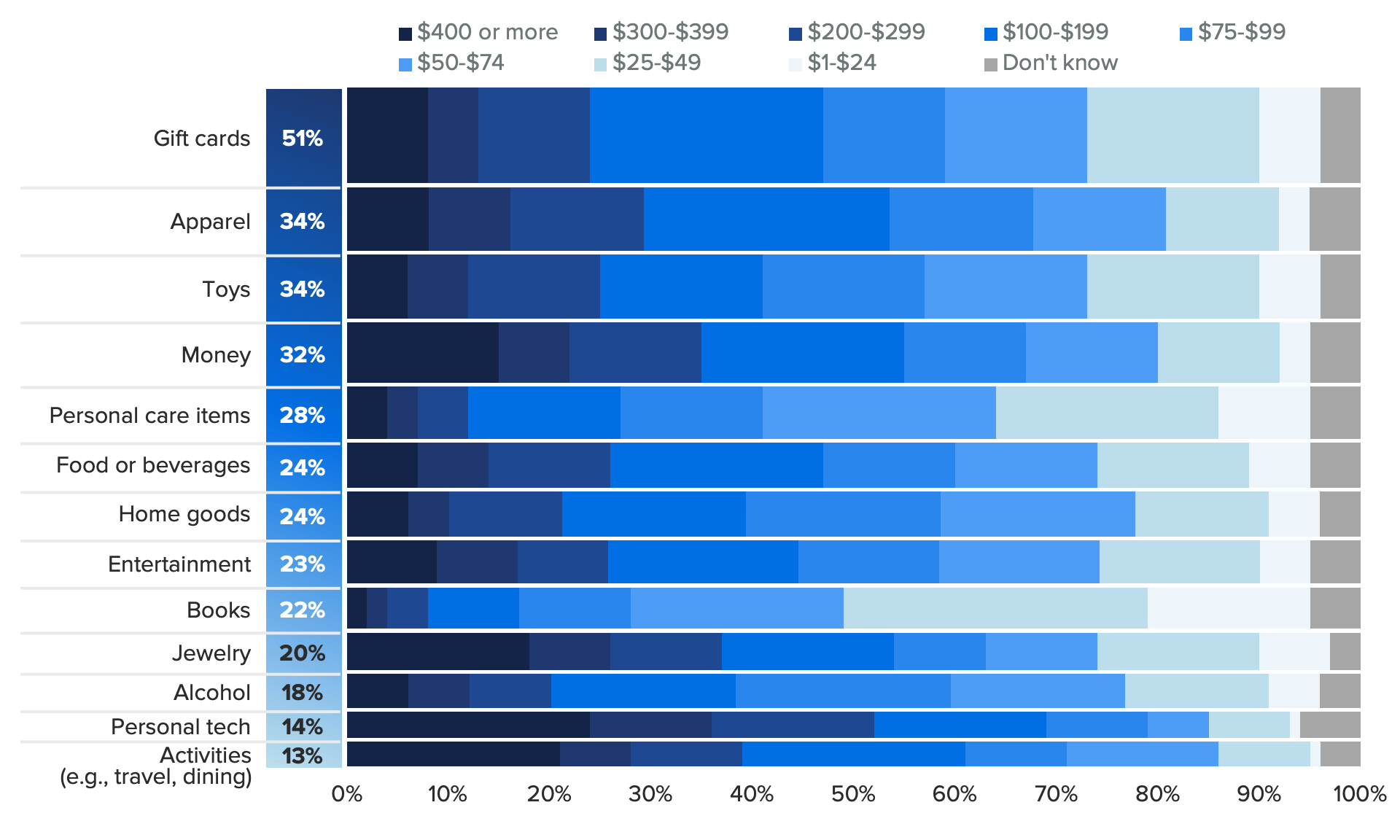 Survey conducted Sept. 21-24, 2023, among a representative sample of at least 2,215 U.S. adults, with an unweighted margin of error of +/-2 percentage points. Figures may not add up to 100% due to rounding.
While current gift spending plans mirror 2022's, that could change as the reality of student loan payments hits household budgets. Last year, those who were worried about their finances were willing to accept higher prices to make all their gifting and celebration plans work. This year, those with financial anxiety are planning to spend less than their unanxious counterparts. 
Loyalty matters less for holiday shopping, boosting the importance of discounting
Shopping for other people means tapping into their style and preferences, which means shopper loyalty doesn't carry as much weight for gifting as it does for day-to-day purchases. There's a 7-percentage-point gap between the share of U.S adults who said having a history with a brand is important in choosing where they shop normally (56%) and the share who said the same for holiday shopping (49%). That gap also means that normally loyal shoppers will be more easily swayed by sales and deals on holiday gifts from competitors — and we know deals will be plentiful this season. 
Black Friday remains the fixture of the holiday sale calendar: Just under half (47%) of shoppers plan to take advantage of the event, a number identical to last year. Shoppers believe Black Friday sales (whenever they actually occur) are the most unique of all the major sale events of the year, followed only by Amazon Prime Day in July. This week's Amazon Prime Big Deal Days event also promises to be popular, with 39% of consumers planning to shop it, while 37% plan to shop Cyber Monday. Sale shoppers tend to be more likely to plan ahead for their holiday spending, so teasing deals ahead of time can help draw shoppers in before the competition heats up. 
Holiday sales are pretty consistently popular across consumer demographics, but we see more variation in another means of stretching holiday budgets: secondhand shopping. Among the general population, 38% said they'd "definitely" or "probably" buy gifts secondhand, a number that rises to 46% among those experiencing financial anxiety. We see similar numbers for secondhand holiday decor and apparel as well.
Claire Tassin is the lead retail & e-commerce analyst on the Industry Intelligence team, where she conducts research, authors analyst notes and advises leaders in the retail & e-commerce industry on how to apply insights to make better business decisions. Before joining Morning Consult, Claire was an analyst at Gartner, where she conducted research on shifting consumer behaviors and expectations, as well as trends and technology relevant to marketing leaders in the retail sector. She graduated from Washington University in St. Louis with a bachelor's degree in psychology. For speaking opportunities and booking requests, please email [email protected].
We want to hear from you. Reach out to this author or your Morning Consult team with any questions or comments.
Contact Us