Montanans Like Their Governor. But Do They Want Him as a Senator?
Popular Gov. Steve Bullock is running in a very tight race against Sen. Steve Daines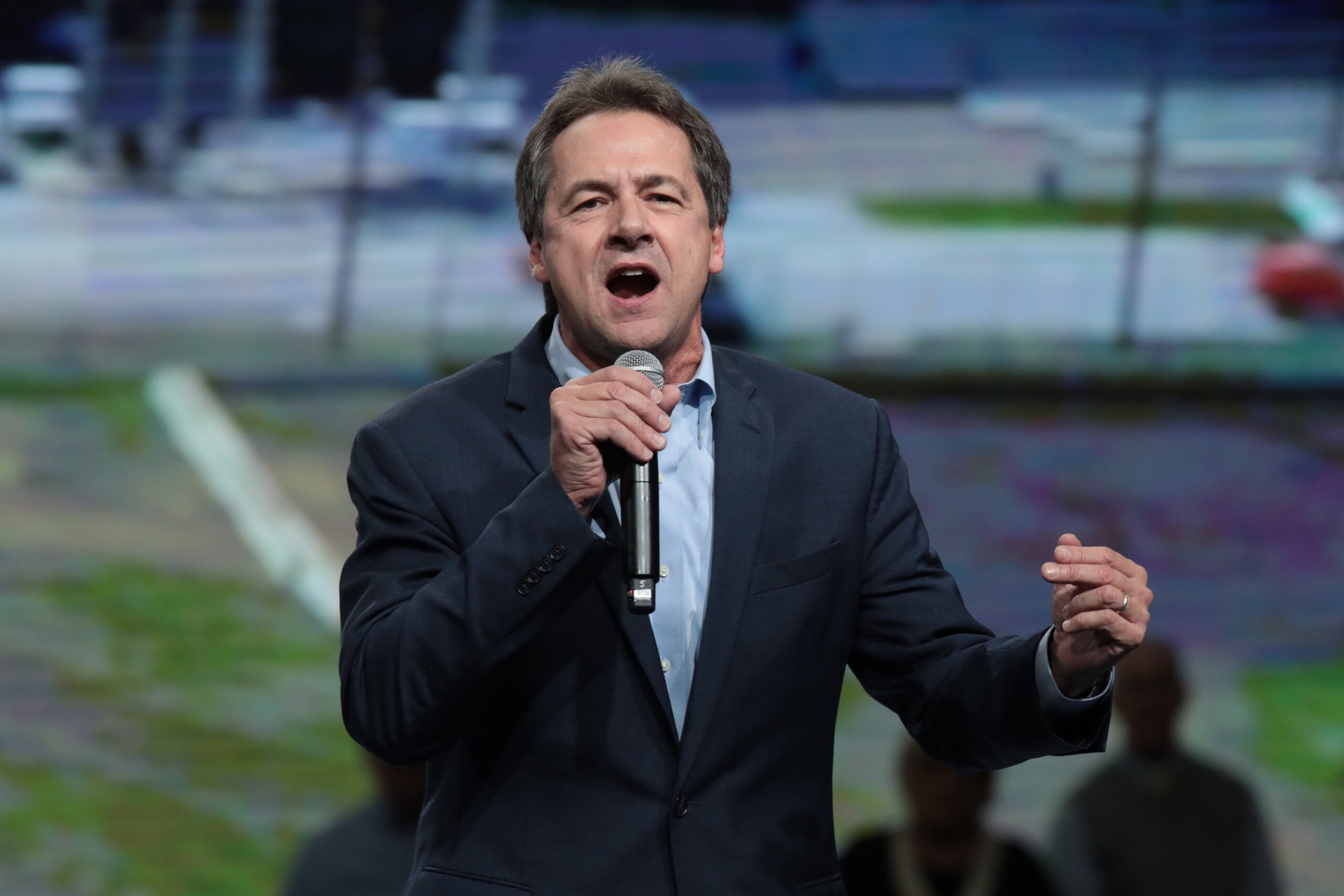 Gov. Steve Bullock has been a popular figure in Montana, scoring a second term as a Democrat in 2016 even as President Donald Trump won the state by 20 percentage points, and beginning this year as one of the most well-liked Democratic governors in the country.
But while most Montanans think he's done a good job in Helena, public polls since he launched his 2020 bid for Senate reveal an electorate that's almost evenly divided about whether he should replace Republican Sen. Steve Daines in Washington. To many strategists and pollsters involved in the race, the numbers suggest a contest largely unmoved by their campaigns' persuasion efforts -- one that will instead be won on the margins in a state where Trump is expected to triumph again this year as he faces off against Democratic presidential nominee Joe Biden.
"It's going to be tight," said Sandi Luckey, executive director of the Montana Democratic Party. "Every single ballot is going to matter. It's going to be right down to the wire."
According to an average of seven polls conducted among likely voters in October, Daines leads Bullock by 1 point -- 48 percent to 47 percent -- within all of the surveys' margins of error, while Trump averages a 7-point advantage over Biden, 51 percent to 44 percent. Bullock's best survey so far, conducted Sept. 14-Oct. 2 by Montana State University, showed him with a 2-point lead over the incumbent Republican, while Daines was up 3 points in a Siena College/New York Times poll conducted Oct. 18-20. 
An average of five polls conducted in recent weeks that reported partisan breakdowns shows Bullock slightly outperforming Biden with Democratic voters, while Daines slightly underperforms Trump with Republicans. Among unaffiliated voters, Bullock has a 9-point edge on the Democratic presidential nominee and leads Daines by 22 points, 58 percent to 36 percent.
Two GOP strategists working on Montana races this year said internal polling shows the contest about where it started in March, while one in Washington said Daines is up by low to mid-single digits. In their view, the only thing that's changed has been the millions of dollars spent on efforts to sway perceptions of the two Steves, who are neither new nor particularly offensive to voters in Montana. 
There's evidence out there that older voters aren't necessarily excited about Sen. Daines, and younger voters support Bullock. All those factors suggest that if all the stars come into alignment, Democrats could win.
David Parker, Montana State University's political science department director
Bullock has taken a traditional Montana Democratic approach to the messaging wars: In campaign ads, he's sought to portray himself as a fighter for public lands and a supporter of gun rights while casting Daines as a threat to health care coverage granted under the Affordable Care Act, which provided for the expansion of Medicaid that the governor shepherded through the Republican-controlled state legislature.
Daines' campaign, which has touted his support of coronavirus assistance for businesses and public lands legislation that became law this year, has worked to undermine Bullock's credibility on the Second Amendment and -- backed by the governor's presidential campaign-trail critiques of Trump -- tried to cast him as just another liberal, questioning his bipartisan credentials and labeling him as someone who would be a "rubber stamp" of the Democratic agenda in Washington. 
Outspent by $10 million from Bullock's campaign alone, Daines' attacks have not moved the needle on the overall race, a potentially worrying sign for an incumbent whose disapproval number rose by double digits in the past two years.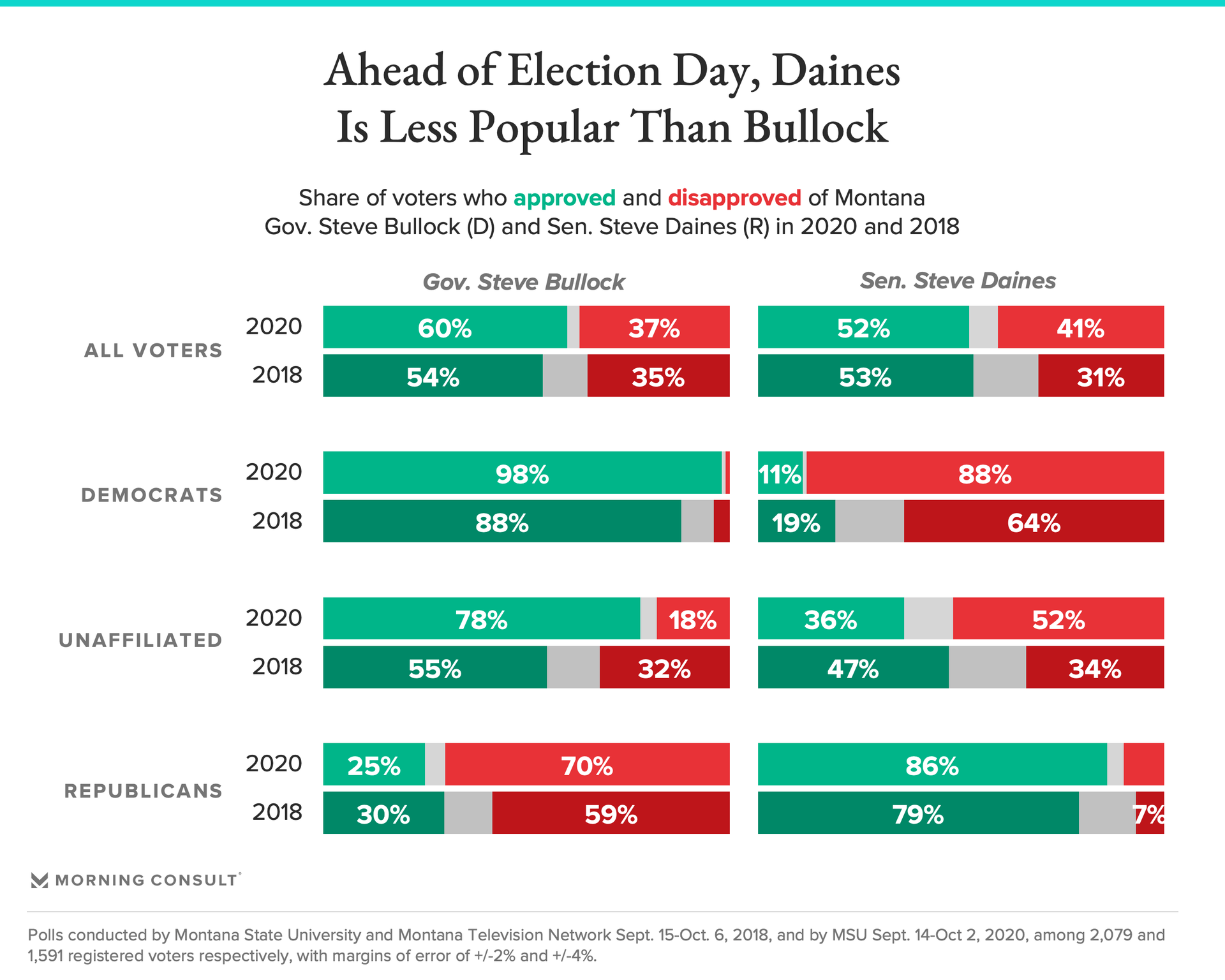 While Republicans note that the two candidates are on similar terms when Montana voters were asked their favorability of both candidates in the Siena College survey (about half have positive views), the Montana State University polling, which was conducted by mail, found 52 percent of voters approve of Daines' job performance, virtually unchanged from polling conducted with the Montana Television Network around the same time in 2018, while 41 percent disapprove, up 10 points from two years ago. Three in 5 Montanans approve of the governor's job performance, up 6 points from 2018, while the share who disapprove, 37 percent, has risen just 2 points during that time. 
Notably, Bullock's standing has improved among independents and Democrats since 2018 -- but it's weakened among Republican voters, a sign that GOP efforts to chip away at the sizable coalition of Big Sky voters who backed both Trump and their Democratic governor four years ago has borne fruit, likely a necessity for a Daines victory. 
On average, 5 percent of the electorate is still undecided, including 7 percent of voters unaffiliated with a political party.
"There is a big swath of independents we need to be talking to and persuading until the last minute," said Olivia Bercow, the Bullock campaign's communications director. "It's now about getting out your people and who did a better job convincing people in the center that they'll be the better senator, and we argue that is Steve Bullock."
David Parker, Montana State University's political science department director who conducted the survey, said the state's voters who eschew both major parties make up a large and meaningful share of Montana's electorate, and that while they're not happy with the direction the country is headed in, they feel better about how things are going under Bullock's leadership. Parker, who authored a book on Democratic Sen. Jon Tester's 2012 re-election campaign, said the 2020 contest is going to come down to which voters end up casting ballots -- alluding to the election cliché that "it all comes down to turnout."
"In 2012 and 2018, largely speaking, Tester won because older voters backed him and younger overwhelmingly voted for him," he noted. "There's evidence out there that older voters aren't necessarily excited about Sen. Daines, and younger voters support Bullock. All those factors suggest that if all the stars come into alignment, Democrats could win."
Whether they do is an open question for Democrats amid the surging coronavirus pandemic, which has made efforts to engage young people on college campuses and tribal voters on reservations -- both important constituencies for Democrats -- more challenging in a state where only 11 of its 56 counties will have traditional polling places open on Nov. 3.
Jason Thielman, a senior adviser to Daines, said the campaign is encouraged by voter registration increases built on an early effort to contact voters at their doors before Bullock even entered the race, and during the pandemic, when Democrats initially held back.
"When you look at the counties that drive that growth, in past-recent elections in Montana, it is the college counties and other strong Democratic counties they win overwhelmingly. This time, it's driven almost exclusively by our strong Republican counties," he said. "There's just enthusiasm among people who are wanting to be engaged and get involved in the process that I don't think we've seen in the past in Montana."
By mid-day Thursday, state records showed the number of absentee ballots requested for the 2020 elections has outpaced actual voter turnout in 2016 and 2018, and the number of ballots returned has reached 88 percent of the total votes cast in 2016. An analysis from Tufts University this week found that Montana's youngest voters -- those ages 18-29 -- have requested at least three times as many early ballots as in 2016, and the return rate roughly matches what it was four years ago.
Democrats will probably say high turnout benefits them. I think it benefits us because there are more of our voters than theirs.
Brock Lowrance, Montana GOP strategist
"We're just working to get the votes in," said Luckey, whose state party's voter turnout program has been lauded by strategists in Washington. "In a pandemic, it means we have been on the phones a lot more often than we typically are. At the doors, it means a lot of masks, hand sanitizer, gloves and face shields." 
To reach native communities, a group Luckey credited for Tester's 3.5-point margin of victory over Republican Matt Rosendale in 2018, she said Democrats have had to delegate get-out-the-vote efforts on reservations to people who live there, and are working to help facilitate early voting and safe transportation to limit interactions with other people.
On the Republican side, GOP strategists in the state have expressed confidence in their chances of taking the governor's mansion, holding the state's sole congressional seat and another victory for Trump, but believe Daines is ahead by a thin margin. They're working to ensure ballots are returned in key communities: Sen. Marco Rubio (R-Fla.) traveled to Great Falls this week to campaign in a county won by Trump and Bullock in 2016 and Tester in 2018, while Sen. Ted Cruz (R-Texas) was in the state visiting Billings and Hamilton on Thursday. 
Parker said the early vote turnout rate in red Yellowstone County, home to Billings, is a bright spot for the GOP, and noted that the 11 counties where voters can cast ballots on Election Day are rural communities that Republicans won in 2016.
"Democrats will probably say high turnout benefits them," said Brock Lowrance, a Republican strategist in Montana. "I think it benefits us because there are more of our voters than theirs. If more Republicans turn out, that makes their job harder."
Eli Yokley is Morning Consult's U.S. politics analyst. Prior to his current role, Eli was Morning Consult's senior reporter covering U.S. politics. Eli joined Morning Consult in 2016 from Roll Call, where he reported on House and Senate campaigns after five years of covering state-level politics in the Show Me State while studying at the University of Missouri in Columbia, including contributions to The New York Times, Politico and The Daily Beast. Follow him on Twitter @eyokley. Interested in connecting with Eli to discuss his analysis or for a media engagement or speaking opportunity? Email [email protected].
We want to hear from you. Reach out to this author or your Morning Consult team with any questions or comments.
Contact Us