Susan Collins' Moderate Cred Is on the Ballot in Tough Re-Election Bid
Polling suggests the Maine Republican's reputation has never recovered from her 2018 Supreme Court vote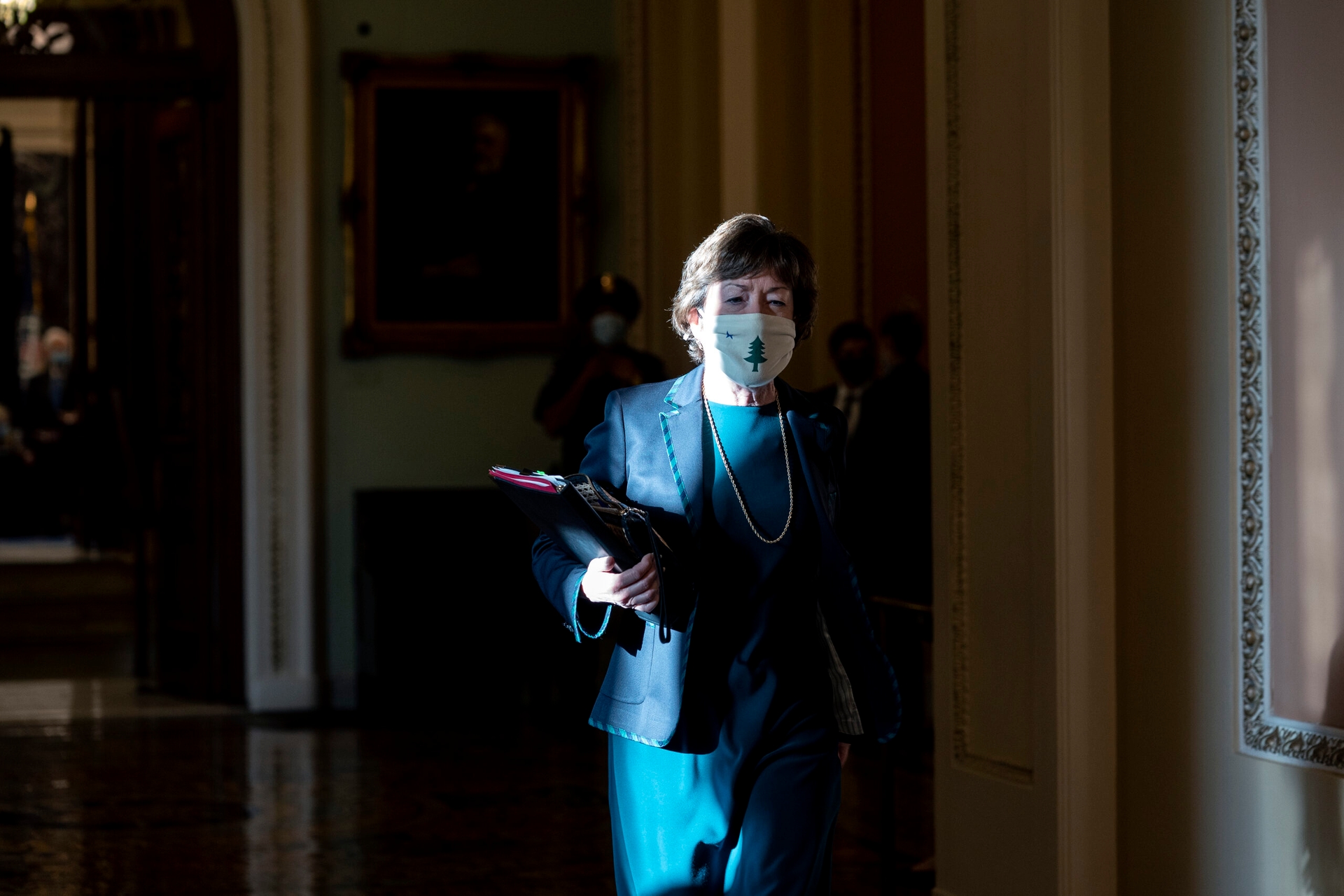 Since she was first elected to the Senate in 1996, Susan Collins (R-Maine) has never had a close race, outperforming President Barack Obama's wide margin of victory to secure re-election in 2008 and winning her 2014 contest by 36 points. 
But while Collins has been able to portray herself as a Maine-minded moderate -- and netted three double-digit victories in a state where her party has lost the past seven presidential contests --  that independent image has been eroded during Donald Trump's presidency. During the past four years, some voters who formed the coalition that contributed to her previous wins have soured on Collins, creating an opening for her Democratic challenger, state House Speaker Sara Gideon, in Collins' first race under a ranked-choice voting system.
"I think Susan Collins did a very good job of staking out perceptions that she was moderate," said Maine state Sen. Shenna Bellows (D), who ran against Collins in 2014. "I think some of her votes in the Trump era really contradicted that reputation, and some voters -- particularly Democrats -- felt a sense of betrayal."  
While Collins voted with Republican Sens. John McCain of Arizona and Lisa Murkowski of Alaska to save the Affordable Care Act in 2017 and has opposed Trump's pre-election Supreme Court nomination effort this year, she has sided with the president at key and polarizing moments: She voted for his signature tax law, supported his acquittal in the Senate's impeachment trial, and, most pivotally, voted for Judge Brett Kavanaugh's controversial confirmation to the Supreme Court in 2018.
Heading into the Kavanaugh fight, Collins was popular with independents and Democrats in Maine, but lacked approval among Republicans following her vote on Obamacare. But after her decisive support for the jurist, Morning Consult polling at the time found a total shift in her coalition, with the fourth-term incumbent's disapproval rating rising 22 percentage points among Democrats between the third and fourth quarters of 2018, while it fell by 22 points among Republican voters during that time.
Her standing among independents remained sturdy at first, but began to crater by the time Gideon launched her campaign in June 2019: Between the first and second quarters of that year, Collins' approval rating with the group fell from 53 percent to 44 percent, as her disapproval rating ticked up from 34 percent to 46 percent.
As of the fourth quarter of 2019, 52 percent of Maine voters disapproved of her job performance, making her the most unpopular senator in Morning Consult's rankings heading into the election year.
Patrick Murphy, a Maine pollster and president of Pan Atlantic Research, said Collins never recovered from the Kavanaugh episode, a vote she's stood by but which has made her a polarizing figure nationally and a target of the left across the country. He cited his latest data, which shows 56 percent of independents disapprove of Collins' job performance, while nearly 4 in 5 Democrats have negative views and 3 in 4 Republicans have positive views.
Just like the presidential race is a referendum on President Trump, this is a referendum on Susan Collins.
Patrick Murphy, president of Pan Atlantic Research
His survey, conducted Oct. 2-6, found a close race between Collins and Gideon, who held a narrow lead driven by voters who don't align with a political party. Another survey, conducted Sept. 25-Oct 4 for the Bangor Daily News, found the major-party contenders tied among likely voters -- akin to what two Republican sources said they have seen in internal numbers -- and showed neither candidate with an advantage among independents.
"Susan Collins floated along for a long time as a moderate, but once Trump came in and we've had so many divisive issues, she's been forced to pick sides," Murphy said. "Just like the presidential race is a referendum on President Trump, this is a referendum on Susan Collins."
Republican strategists in Washington, D.C., and Maine interviewed over the past week agreed that the contest has essentially become a referendum, but said it's an open question as to which version of Collins voters are evaluating -- the caricature of a Trump enabler as framed by Gideon and her allies, or the familiar one she and her backers have highlighted: a woman with a 24-year bipartisan voting record, a talent for dealmaking and a personal affection for former Vice President Joe Biden.
Felicia Knight, a Maine public relations consultant and former aide to Collins who voted early for Biden and her former boss, said some voters "are coloring everything about this race with Donald Trump," forcing Collins to fend off "blind rage" toward the president as she seeks to express her moderate bona fides. 
"Their outrage is understandable," Knight said. "What I don't understand is a blind willingness on the part of some to throw out an experienced, powerful, moderate voice in Washington."
Knight noted that Collins is likely to ascend to a top spot on the Senate Appropriations Committee if elected to the next Congress. "Regardless of who takes the Senate – the Democrats or the Republicans – if Susan Collins is not here, people are going to feel it."
That message was a key pressure point when the Maine candidates faced off in a debate Thursday night. While Collins highlighted her record on channeling federal funds to the state, something she said would become more apparent if she became the first Mainer to chair the Senate Appropriations Committee since 1933, Gideon pushed back, pointing out that Collins' ascension to the chair would mean an enduring reign over the chamber for Senate Majority Leader Mitch McConnell (R-Ky.), an attack that attempted to shift the conversation from Collins' terms on the local implications of her work to the national stakes that have helped polarize the race.
The Democrats' effort to nationalize the contest has also played out in the state's advertising wars. In addition, Amy Fried, chair of the University of Maine's political science department, said the Gideon campaign -- flush with cash and backed by outside groups working to flip control of the Senate -- has highlighted people who backed Collins in the past but aren't anymore, a move that "sets up a permission structure for other voters who are questioning whether they should support Collins." 
By contrast, Fried said Collins' message is simply, "Remember me: I'm Susan Collins, you liked me." 
In a statement that blasted "millions of dollars in false attack ads" from national Democratic groups, Annie Clark, a spokesperson for Collins' campaign, said the incumbent has made the race about what she can do for the state. 
"We're confident that they will see through it and re-elect Susan Collins -- our Senator and the person they've known for years who leads and delivers on the most pressing issues facing our nation, but who still cares deeply about the individual problems facing every Maine family," she said in an email. 
The Gideon campaign did not respond to a request for comment.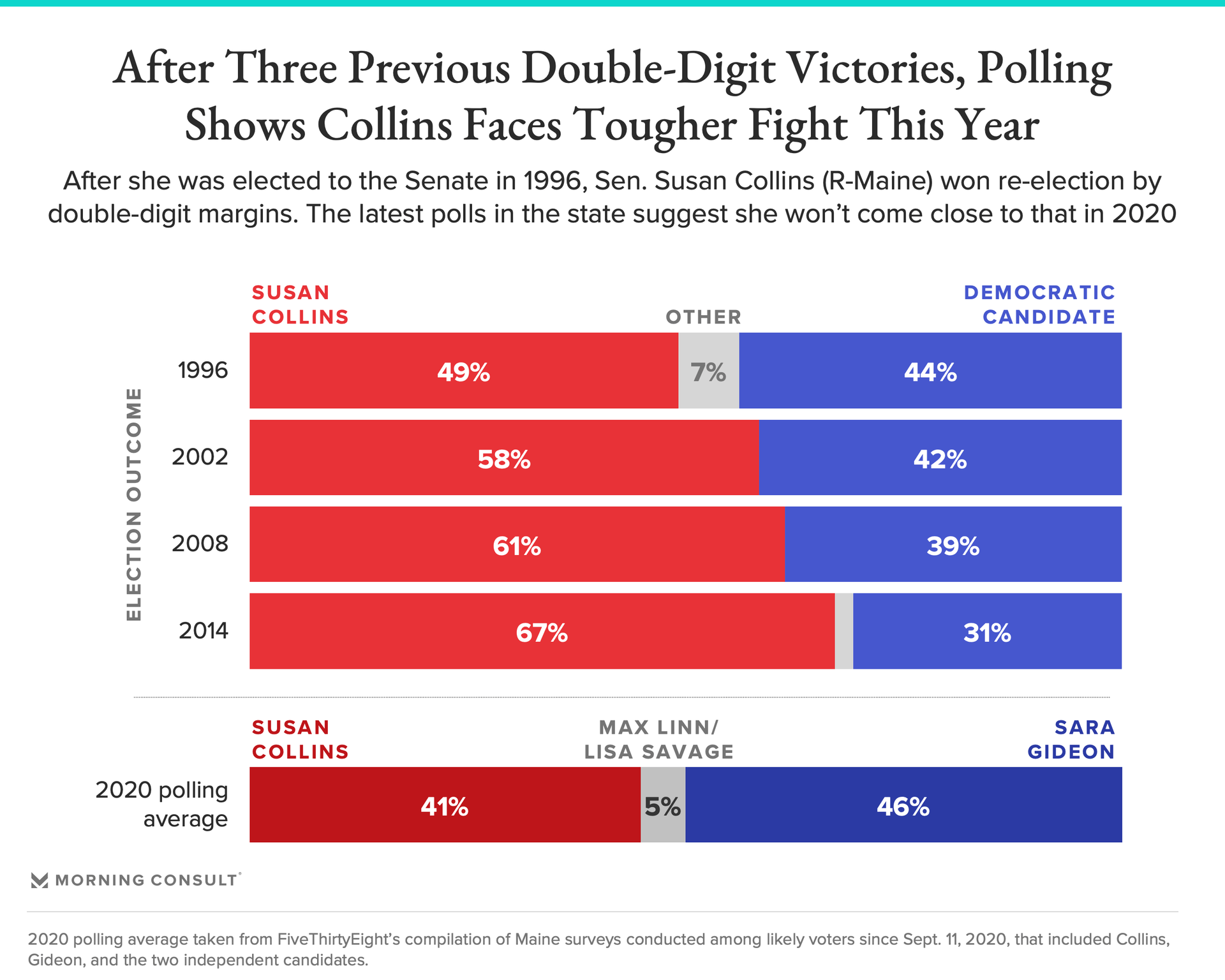 While polling suggests Collins will not see a repeat of her previous double-digit victories, it does not appear that she will face a blowout, either -- indicating some voters in the state are willing to separate her from the president. In the Maine polling, Collins does better against her rival than Trump, who is averaging a 14-point deficit against Biden, according to FiveThirtyEight's calculations.
No survey conducted this year that includes the four candidates -- Collins, Gideon and the two independents, Lisa Savage and Max Lynn -- has shown either of the leading contenders with more than 50 percent support, suggesting the results could trigger the state's ranked-choice voting system, which reallocates support from the lower-performing contenders if no candidate reaches a majority. Republicans concede that subsequent rounds of counting would likely put Collins at a disadvantage, but Democrats aren't taking it for granted.
"Gideon is running a smart campaign, but I would never count Collins out until the very end," said Bellows. "She's experienced and she's also running a really hard and smart campaign."
Eli Yokley is Morning Consult's U.S. politics analyst. Eli joined Morning Consult in 2016 from Roll Call, where he reported on House and Senate campaigns after five years of covering state-level politics in the Show Me State while studying at the University of Missouri in Columbia, including contributions to The New York Times, Politico and The Daily Beast. Follow him on Twitter @eyokley. Interested in connecting with Eli to discuss his analysis or for a media engagement or speaking opportunity? Email [email protected].
We want to hear from you. Reach out to this author or your Morning Consult team with any questions or comments.
Contact Us