Democrats Are Counting on a Rising Biden Tide to Lift Ossoff's Boat in Georgia
New polling shows Jon Ossoff and Sen. David Perdue locked in a tight race below 50%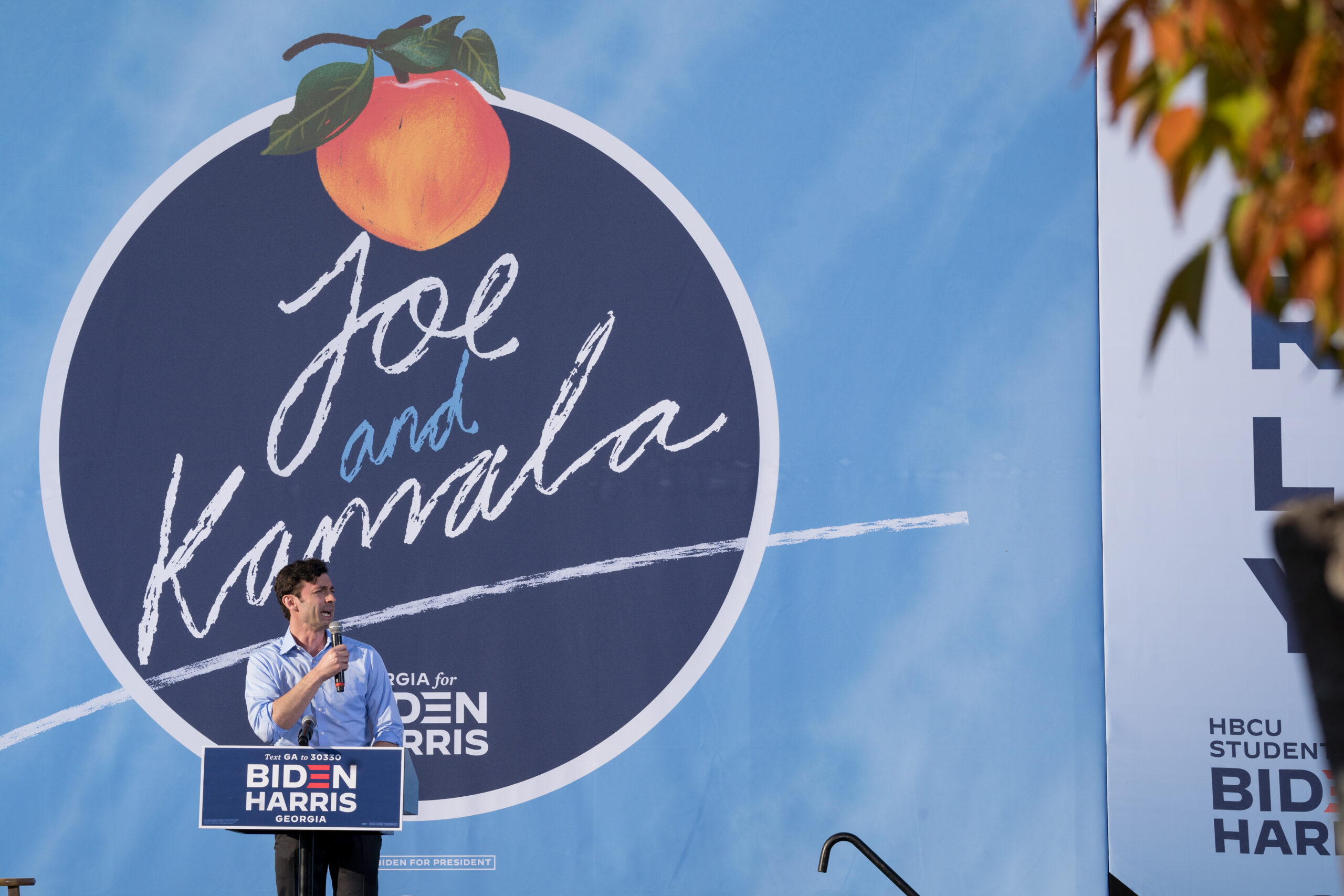 Georgia Democrat Jon Ossoff gained national acclaim in the spring of 2017, when he came shy of the 50 percent threshold to flip a reliably red congressional seat in the first competitive special election of Donald Trump's presidency.
Three years after coming up short in that runoff against Republican Karen Handel, polling has shown the 33-year-old on the cusp of a similar situation in his bout with Sen. David Perdue: Ossoff and the incumbent Republican are locked in a tight race, mostly south of the 50 percent mark in public polling. 
In the final stretch of the campaign, Democrats are counting on former Vice President Joe Biden to help raise Ossoff's chances by exceeding expectations and convincingly winning the state, while most Republicans are hoping for an Election Day pro-Trump surge to dampen the Democratic candidate's margin and push the Senate race into a January runoff.
The latest Morning Consult Political Intelligence tracking of the Senate race shows Ossoff leading Perdue 46.5 percent to 45.5 percent, while Biden is ahead of Trump by 3 percentage points, 48.8 percent to 46.4 percent, in the Peach State. The survey, conducted Oct. 22-31 among 1,743 likely voters in Georgia, has a 2-point margin of error. 
The poll's overall findings -- that the Senate margin in the state is razor thin, with neither candidate over 50 percent -- mirror most other surveys conducted over the same time period, according to FiveThirtyEight's compilation.
In the Morning Consult polling, 5 percent of likely voters were undecided on the Senate contest, including roughly 1 in 10 moderates, 18- to 34-year-olds and Black voters -- all groups among whom Ossoff has double-digit leads. 
Ossoff, who's led a campaign focused on health care and COVID-19 and has accused Perdue of caring more about his investments than the pandemic, is leading the incumbent by double digits among suburban voters, similar to Biden's advantage with that group. Ossoff slightly underperforms Biden's lead with independents, splitting them near-equally with Perdue, whose campaign has never mentioned Trump in an ad but has sought to portray his rival as an extreme Democrat on issues such as health care and police funding.
A flurry of activity in the final days leading up to the election showcases how both parties are prioritizing the competitive battleground, where strategists say Ossoff's chances of topping 50 percent run in tandem with Biden's own rise, and where Morning Consult polling shows the gap between support for the two Democrats has dwindled in recent weeks.
On Sunday, Georgia was the target of separate visits from both Trump and Biden's running mate, California Sen. Kamala Harris, who also made an Oct. 23 visit to Atlanta's Morehouse College, a historically Black college. Former President Barack Obama was set to visit Georgia Monday to campaign for Biden, Ossoff and Democrat Raphael Warnock, whom the former president is backing in a special Senate election this week. 
"Winning a Senate race is a team sport. Nobody wins alone," said Joshua Karp, a Democratic strategist working on Ossoff's campaign. "The Biden team is doing everything anyone could want them to to ensure that we pull this thing off."
This is an electorate that's experiencing rapid change unlike anything happening in America, except maybe Arizona.
Joshua Karp, Democratic strategist working on Ossoff's campaign
Harris' weekend trip took her to Gwinnett County, an area just outside of Atlanta that Democrats say highlights the changes that have helped to make their party competitive in Georgia. Though Perdue won the county by 10 points in his 2014 campaign, Democratic nominee Hillary Clinton won it by 6 points in 2016 and Democratic gubernatorial candidate Stacey Abrams won it by 15 points in 2018. 
"In 2014 it was a sleepy, white exurban county. Four years later, it's diverse and suburban," Karp said. "This is an electorate that's experiencing rapid change unlike anything happening in America, except maybe Arizona."
Gwinnett County's voter rolls have increased 30 percent since 2016, according to state records, part of an influx of roughly 1.6 million new registered voters in Georgia over the past four years that's been driven by the state's general growth and specific efforts, such as Abrams' efforts to engage voters of color. In Gwinnett County and Fulton County (home to Atlanta), early votes have topped 2016 vote totals, while Georgia as a whole reached over 95 percent of its total vote share from four years ago by the end of early voting on Oct. 30. 
GOP strategists said they see signs of hope in early vote totals in Forsyth and Cherokee counties, all populous places where Trump beat Clinton handily in 2016. They also noted that early vote participation among Black voters, a key constituency for Biden and Ossoff, was 27.6 percent, according to the U.S. Elections Project, just a hair less than the 28 percent The Atlanta Journal Constitution reported it reached in the 2016 elections. Democrats note that counties may still be processing ballots given the fact that they have been requested but not reported in official tallies. However, it raises the stakes for voters to drop off their ballots or show up at the polls on Election Day.
Considering that GOP voters have seemed more prone to vote in person on Election Day rather than early by mail or in-person absentee, Republicans also concede that they need their voters to show up on Tuesday to outweigh the growth in places that have trended blue. 
"The rural vote needs to get jacked up on Election Day. It's lagging a little bit," said Brian Robinson, a former aide to then-Georgia Gov. Nathan Deal (R). "If you look at Trump and Kamala here, it tells you that nobody is spinning you when they say we don't know who's going to come out ahead in Georgia."
John Burke, a spokesman for Perdue's campaign, said Sunday that "Perdue remains in a strong position to win on November 3rd." 
"We are confident that our unprecedented grassroots-driven campaign, with support across all of Georgia's 159 counties, will propel Senator Perdue and President Trump to victory as Georgians reject Joe Biden and Jon Ossoff's radical socialist agenda," he said in an email.
Whichever party wins the presidency, the other side here is going to be super fired up in the runoff.
Brian Robinson, former aide to then-Georgia Gov. Nathan Deal (R)
While both campaigns have expressed confidence in their ability to surpass 50 percent on Election Day, party strategists in Washington on either side of the aisle said privately on Friday and into the race's final weekend that they are expecting the Perdue race to go into a runoff along with the Senate special election, where appointed Sen. Kelly Loeffler and Rep. Doug Collins, two Republicans, are engaged in a brutal race for a place on the ballot, likely against Warnock.
There are several scenarios for what that race could look like, depending on the status of the Senate majority math and the victor in the presidential race. Ossoff and Warnock have already begun to campaign together, and Perdue would likely end up campaigning alongside the Republican victor in the other contest.
"Historically, Republicans do a much better job in turning back out in runoffs than Democrats do," said Robinson. "Whichever party wins the presidency, the other side here is going to be super fired up in the runoff."
Eli Yokley is Morning Consult's U.S. politics analyst. Prior to his current role, Eli was Morning Consult's senior reporter covering U.S. politics. Eli joined Morning Consult in 2016 from Roll Call, where he reported on House and Senate campaigns after five years of covering state-level politics in the Show Me State while studying at the University of Missouri in Columbia, including contributions to The New York Times, Politico and The Daily Beast. Follow him on Twitter @eyokley. Interested in connecting with Eli to discuss his analysis or for a media engagement or speaking opportunity? Email [email protected].
We want to hear from you. Reach out to this author or your Morning Consult team with any questions or comments.
Contact Us